WATCH: Dutch Man Drives Moped Onto Pitch In The Middle Of Soccer Match To Protest Fans Setting Off Fireworks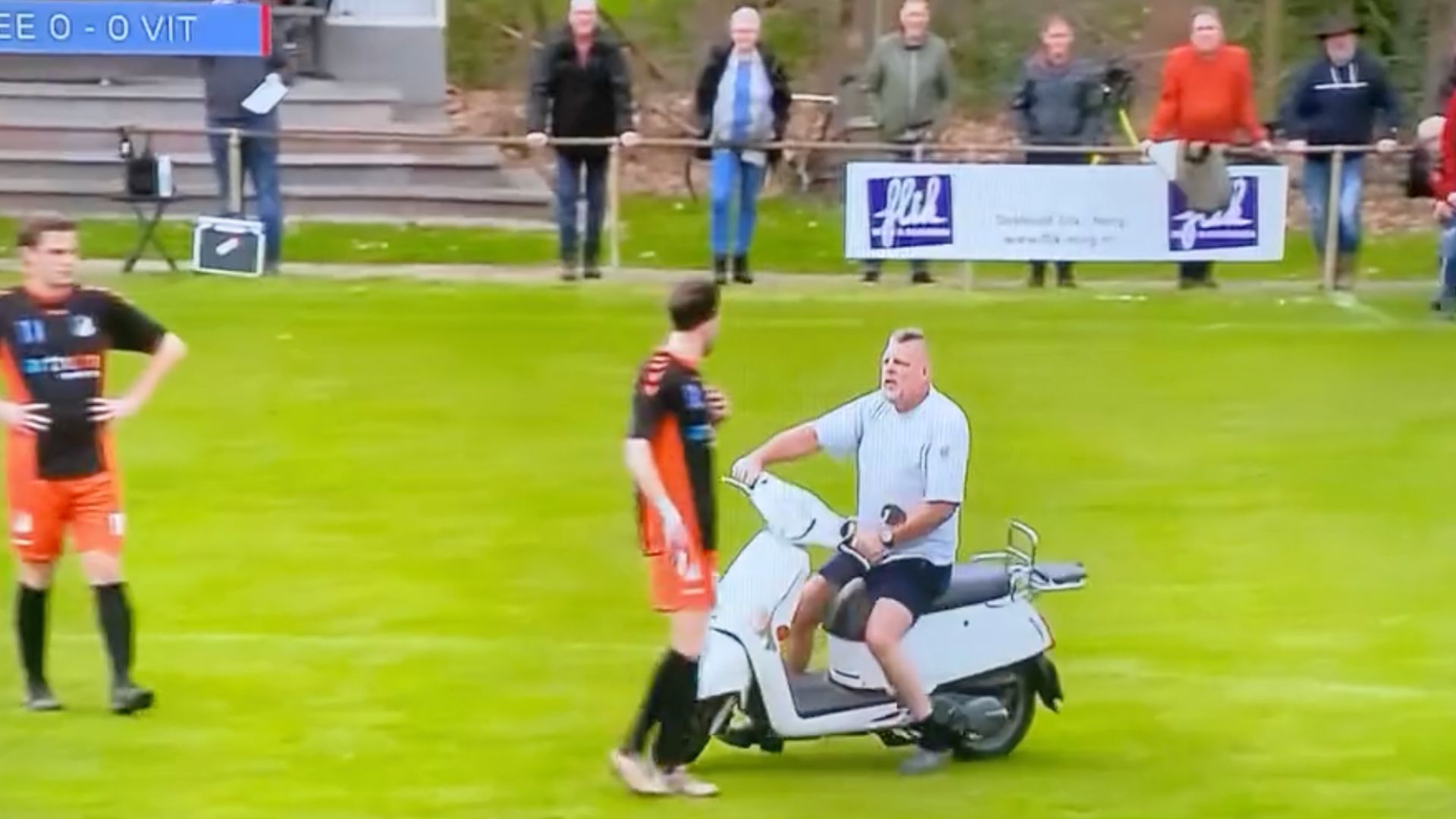 A Dutchman decided to drive his moped scooter on a pitch during a soccer match to protest young fans who shot off fireworks.
According to The Sun, the man invaded the field after the explosives were set off before the start of the match, and he was angry that the loud noises scared his horse. The players stood around on the pitch as the man circled them and came to a complete stop at mid-field. Once he exchanged words with the athletes and the official, he sped off.
Vitesse '63 defeated Veenhuizen 4-1 in the eighth-tier matchup on Sunday.
After the game, Veenhuizen's club chairman, Kees Van der Leest, spoke about the situation.
He said:
We are not doing well in the league, and we had to play the bottom team. The youngsters wanted to support [with the fireworks], but it turned out unfortunate with out neighbor driving on the field. It was annoying.

We don't want to be a burden to anyone, but we have to monitor safety on the field. We know the neighbor. He played for us in his youth.

We will talk with him. I think he acted out of emotion.
The man's anger was creative compared to what we have seen in recent months, with crazed soccer fans invading the field out of frustration.
One man decided to invade a Europa League match between PSV Eindhoven and Sevilla at PSV Stadium in The Netherlands. He punched Sevilla goalkeeper Marko Dmitrović's face while receiving a strike back. The man immediately fell to the ground, and Dmitrović got on top of him and began to pummel the invader.
Another man in Columbia decided to sucker punch player Daniel Cataño right in the side of the head before a match began. The soccer star chased him down before he fell to the ground and was scooped up off the field by security.
Watch above.
Have a tip we should know? tips@mediaite.com
Luke Kane - Sports Reporter