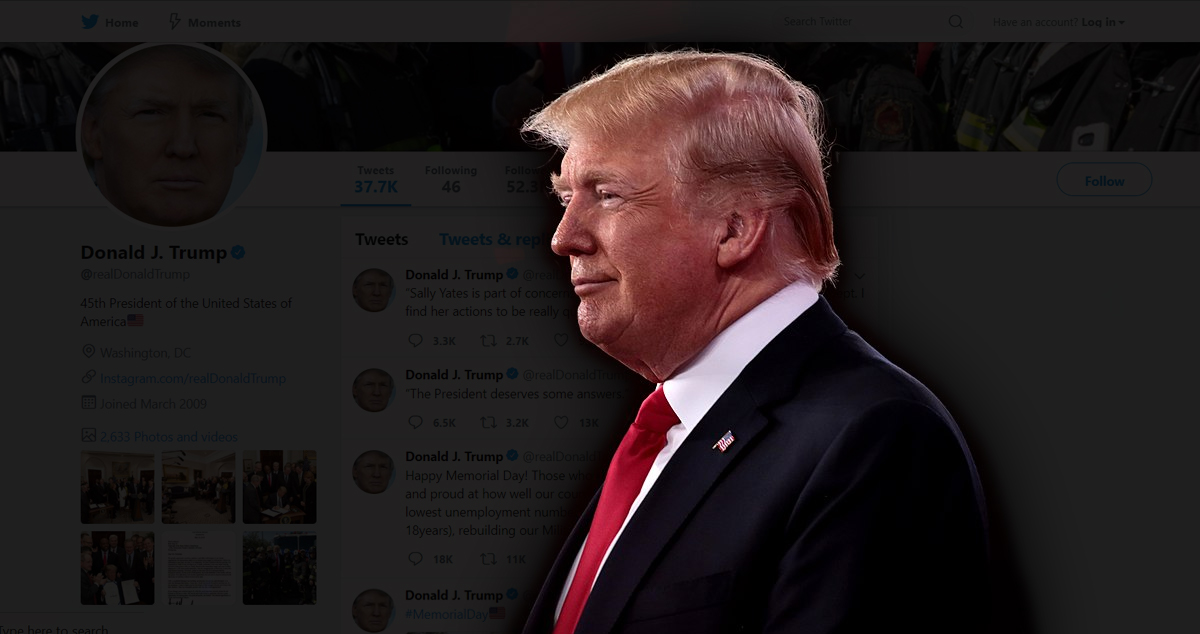 Lifelong civilian President Donald Trump tweeted on Monday for Memorial Day, and it didn't go well. As a general rule, none of Trump's tweets are well-received, but on this day, this particular tweet was especially poorly received. The critics' consensus: he made it about him, not the fallen.
In 1984, President Reagan's remarks at Arlington National Cemetery described succinctly what today is about.
Memorial Day is a day of ceremonies and speeches. Throughout America today, we honor the dead of our wars. We recall their valor and their sacrifices. We remember they gave their lives so that others might live.
In his Twitter "tribute", Trump was more inwardly focused.
Happy Memorial Day! Those who died for our great country would be very happy and proud at how well our country is doing today. Best economy in decades, lowest unemployment numbers for Blacks and Hispanics EVER (& women in 18years), rebuilding our Military and so much more. Nice!

— Donald J. Trump (@realDonaldTrump) May 28, 2018
That message was not well-received, by folks including those on the left, right, and center.
Good Lord https://t.co/DfeIY84TGX

— John Podhoretz (@jpodhoretz) May 28, 2018
Memorial day isn't about the economy, and is especially not about you. Poor form, Mr. President. https://t.co/tyhtGcOqb2

— Andrew Donaldson (@four4thefire) May 28, 2018
This is perhaps the most disgusting Trump tweet ever.
Memorial Day is a solemn day to reflect on the memories of those who paid the ultimate sacrifice for freedom, liberty & justice for all.
It's NOT a "Happy" day nor is it a day to tout your draft dodging "bone spurs" self. https://t.co/5dNub5xqu8

— Nate Bell (@NateBell4AR) May 28, 2018
Welp, he did it. Made a tweet about our fallen about himself https://t.co/QqlwQqHv4j

— Diane Biegel (@DiDi2009) May 28, 2018
He seriously just made Memorial Day about himself. "Your father died a horrible, useless death in Vietnam, but check out these unemployment numbers. Nice!" https://t.co/w9MABIHjpd

— The Rude Pundit (@rudepundit) May 28, 2018
My advice, FWIW: If you happen to have encountered this tweet, as I did–put it out of mind. There are so many appropriate expressions of respect and appreciation on this Memorial Day that deserve your attention, and that reflect well on the country. Attend to them. Ignore Trump. https://t.co/w5O7Ik0VUD

— Bill Kristol (@BillKristol) May 28, 2018
this is … not a good tweet, at allhttps://t.co/IHwZQfhP9z

— Greg Pollowitz (@GPollowitz) May 28, 2018
On #MemorialDay, Trump is thinking about the imaginary approval rating of dead soldiers.

Well, at least he did not say "I like soldiers who weren't killed"…so improvement I guess. https://t.co/HzxuzTvf4X

— Nunca Trump (@NeverTrumpTexan) May 28, 2018
Tell me again how Reaganite Americanism is outdated or worse than this. https://t.co/dbcyL8sKhw

— Avi Woolf, WTF Conservative? (@AviWoolf) May 28, 2018
Mediaite and Daily Beast columnist Dean Obeidallah ties this to a bigger question. One the GOP faces a lot.
Hey @GOP are you going to be silent as Trump uses "Those who died for our great country" as a prop for his political agenda?! This is truly vile: https://t.co/2BeTpREUEQ

— (((DeanObeidallah))) (@DeanObeidallah) May 28, 2018
MSNBC's Josh Barro had perhaps the most devastating reply.
On Memorial Day, the president takes some time to remember that dead soldiers are grateful to him. https://t.co/DZaGWlkm7q

— Josh Barro (@jbarro) May 28, 2018
While National Review's Jonah Goldberg summed up exactly what any Republican who watches the President's Twitter must have been thinking.
Well. He definitely wrote this one himself. https://t.co/cwu9kgY5rZ

— Jonah Goldberg (@JonahNRO) May 28, 2018
Here is Trump in 2015:
I would like to wish everyone, including all haters and losers (of which, sadly, there are many) a truly happy and enjoyable Memorial Day!

— Donald J. Trump (@realDonaldTrump) May 24, 2015
And this is Trump during the campaign.
Honor Memorial Day by thinking of and respecting all of the great men and women that gave their lives for us and our country! We love them.

— Donald J. Trump (@realDonaldTrump) May 29, 2016
This is his from last year.
I look forward to paying my respects to our brave men and women on this Memorial Day at Arlington National Cemetery later this morning.

— Donald J. Trump (@realDonaldTrump) May 29, 2017
By way of comparison, here is President Obama's tweet from 2016:
This Memorial Day, I hope you'll join me in acts of remembrance. The debt we owe our fallen heroes is one we can never truly repay.

— President Obama (@POTUS44) May 30, 2016
[image by screenshot and public domain]
—
Follow Caleb Howe (@CalebHowe) on Twitter
Have a tip we should know? tips@mediaite.com
Caleb Howe - Contributing Editor