CNN's Don Lemon: President Donald Trump is 'Circling the Wagons' Around Donald Trump Jr.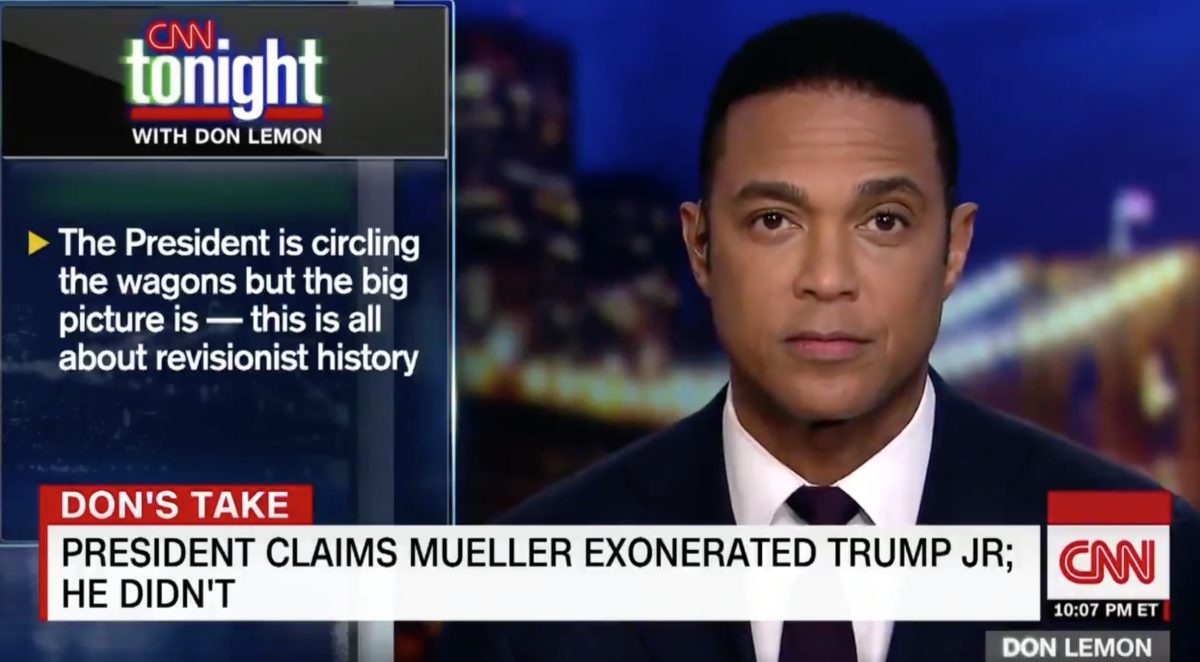 CNN's @donlemon: "The President is circling the wagons around his son, Donald Trump Jr. … This is all about revisionist history … The President is trying to rewrite inconvenient facts, trying to downplay the Republican-led Senate Intel Committee's subpoena on his oldest son" pic.twitter.com/xu3PvRpvtX

— CNN (@CNN) May 10, 2019
CNN Tonight anchor Don Lemon accused President Donald Trump of "circling the wagons" to defend his son Donald Trump Jr. after the younger Trump received a subpoena this week to appear before the Senate Intelligence Committee.
The Committee, led by Sen. Richard Burr (R-NC) is calling on Trump Jr. to appear before Congress again so he can face questions on Trump Tower Moscow, along with his previous testimony about the meeting he had with a Kremlin lawyer back in 2016.
Lemon, in his Thursday night monologue, accused the president of "trying to downplay the Republican-led Senate Intel Committee's subpoena for his son," emphasizing the Committee is led by the GOP, which still holds a majority in the Senate.
"This is revisionist history," Lemon said. "Donald Trump Jr. was not exonerated by Robert Mueller … the fact is Donald Trump Jr. did not testify to Mueller and declined to even sit down to a voluntary interview with the special counsel."
During an impromptu Q&A held during a press conference on medical billing Thursday, Trump said "I was very surprised" with the Committee. He added, "my son is very good person," and "the last thing he needs is Washington, D.C."
A source close to Trump Jr. promised he would fight the subpoena while accusing Burr of "cowardly" acquiescence to Sen. Mark Warner (D-VA), the Committee's ranking member, and "the rest of the resistance Democrats."
Axios reports Trump Jr. is possibly planning to take written questions, plead the Fifth in writing, or even not showing up for testimony and daring the Committee to hold him in contempt.
Sen. Richard Blumenthal (D-CT), a member of the Senate Judiciary Committee, said Trump Jr. should be "locked up" if he refuses to comply with the subpoena.
Have a tip we should know? tips@mediaite.com