House Republican Fumes Over Trump Twitter Policy: 'What the F*ck Serving in Congress Has Come to'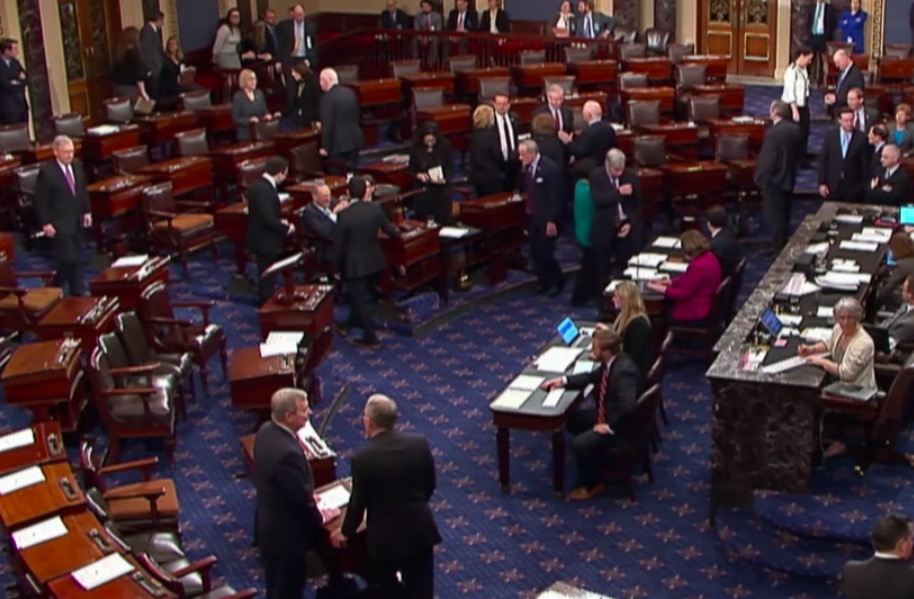 Some last minute indecision has thrown the fate of government funding into a tailspin: it's currently unclear whether President Donald Trump will approve the short-term funding bill passed in the Senate this week. The bill would fund the government through the New Year — but fails to fund Trump's border wall.
MSNBC reporter Kasie Hunt is on Capitol Hill, reporting on the last minute efforts to cobble together something that will satisfy the president and members of the hard right House Freedom Caucus.
According to Hunt, leaders are "scrambling to see if they can pass $5 billion in wall funding," but they want the go ahead from Trump — in the form of a tweet — before they vote yes.
"That's what the fuck serving in Congress has come to," one House Republican fumed, per Hunt.
On the House floor, leaders scrambling to see if they can pass $5 billion in wall funding as Republicans say they want President Trump to tweet before they say "yes."

"That's what the fuck serving in Congress has come to," one GOP member of Congress tells me.

— Kasie Hunt (@kasie) December 20, 2018
Hunt added:
Path today might be putting $5 billion in wall funding on the House floor, likely going down — to prove it can't pass

Then possibly proceed to an clean CR vote? #mess

— Kasie Hunt (@kasie) December 20, 2018
Trump has yet to give a final decision via Twitter, but earlier on Thursday he expressed his dismay with the process:
When I begrudgingly signed the Omnibus Bill, I was promised the Wall and Border Security by leadership. Would be done by end of year (NOW). It didn't happen! We foolishly fight for Border Security for other countries – but not for our beloved U.S.A. Not good!

— Donald J. Trump (@realDonaldTrump) December 20, 2018
Have a tip we should know? tips@mediaite.com
Aidan McLaughlin - Editor in Chief