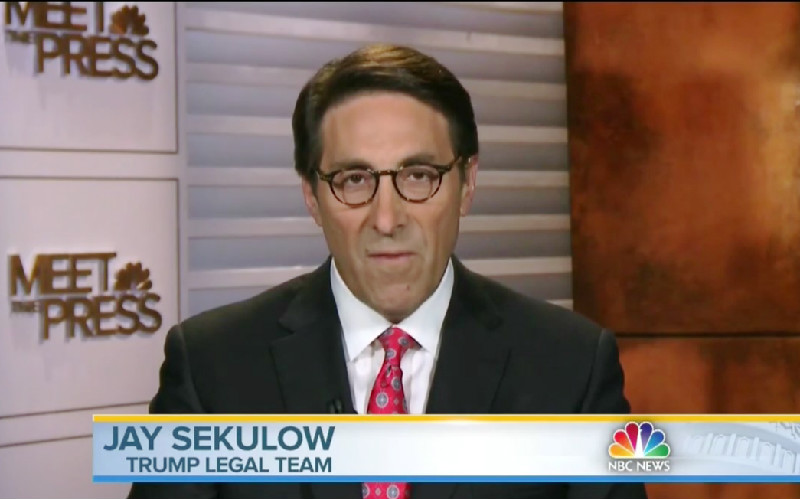 President Donald Trump's lawyer Jay Sekulow has made millions since 2000 off his Christian nonprofit that pushed impoverished people to make "sacrificial donations," according to the Guardian.
Per the report, Sekoluw signed plans in June 2009 "to push poor and jobless people to donate money to his Christian nonprofit, which since 2000 has steered more than $60m to Sekulow, his family and their businesses."
As the Guardian points out, that's the same month that 15,000 Americans lost their jobs each day following the 2008 financial crisis.
The Guardian obtained a copy of the script used by telemarketers to convince people struggling financially to donate to the nonprofit:
Telemarketers for the nonprofit, Christian Advocates Serving Evangelism (Case), were instructed in contracts signed by Sekulow to urge people who pleaded poverty or said they were out of work to dig deep for a "sacrificial gift".

"I can certainly understand how that would make it difficult for you to share a gift like that right now," they told retirees who said they were on fixed incomes and had "no extra money" – before asking if they could spare "even $20 within the next three weeks".
Case reportedly "raises tens of millions of dollars a year, much of it in small amounts from Christians who receive direct appeals for money over the telephone or in the mail."
The tens of millions of dollars raised was then funneled to "Sekulow, his wife, his sons, his brother, his sister-in-law, his niece and nephew, and their firms."
The organization "has also been used to provide a series of unusual loans and property deals to the Sekulow family."
And there may be consequences for the Trump's attorney — the Guardian spoke to nonprofit legal experts, who said the Sekulows "risked violating a federal law against nonprofits paying excessive benefits to the people responsible for running them."
Daniel Borochoff, president of CharityWatch, a nonprofit watchdog, said "[this] is all highly unusual, and it gives an appearance of conflicts of interest that any nonprofit should want to avoid."
According the Guardian, Sekulow's nonprofit also used (notably Trumpian) scare rhetoric to convince Christians to donate:
The telemarketing contracts obtained by the Guardian show how fundraisers were instructed by Sekulow to deliver bleak warnings about topics including abortion, Sharia law and Barack Obama.

"It's time to let the president know that his vision of America is obscured and represents a dangerous threat to the Judea-Christian [sic] values that have been the cornerstone of our republic," one script from 2015 said.

A 2013 script warned listeners that Obama's signature healthcare law, the Affordable Care Act, promised to give Planned Parenthood federal funding to open abortion referral clinics "in your child's or grandchild's middle school or high school".
Despite making millions off of poor Christians, Sekulow "assured supporters that his organization 'does not charge' for its services. 'We are dependent on God and the resources He provides through the gifts of people who share our vision,' he wrote in a letter sent to contributors."
The Guardian report goes on to detail payments received by the Sekulow's through the nonprofit, as well as a number of property deals made by the family.
[image via screengrab]
—
Follow Aidan McLaughlin (@aidnmclaughlin) on Twitter
Have a tip we should know? tips@mediaite.com
Aidan McLaughlin - Editor in Chief