John Brennan Hits Back in Scathing Op-Ed: Trump's Claims of No Collusion 'Hogwash'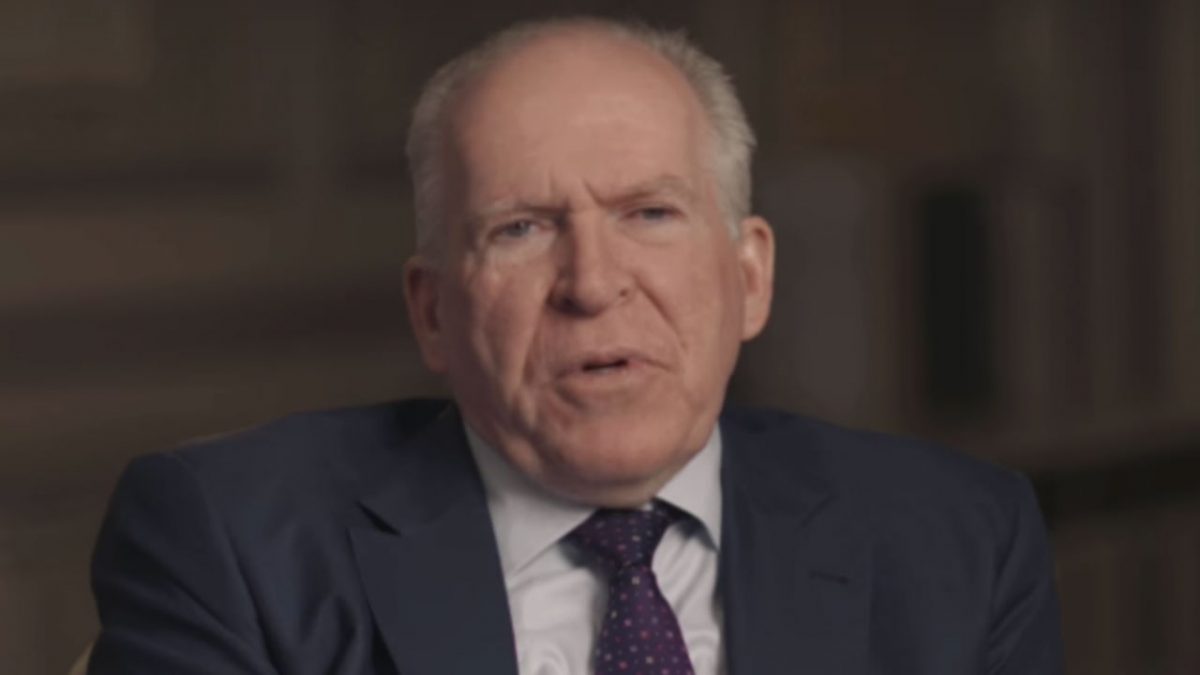 Former CIA Director John Brennan fired a shot back across the bow of the Trump administration in a scathing op-ed piece published in the NY Times today. This is a scathing retort less than 24 hours after the White House announced that President Donald Trump had ordered the revocation of Brennan's security clearances, a move that many saw as a symbolic threat designed to silence critics of this administration.
Yesterday, Brennan likened the revocation of his security clearances to the actions of "autocrats and despots," but in today's op-ed, he made the specific case against Trump regarding collusion.
He opened by sharing his experiences working with his Russian intel counterpart during the Obama administration and making the claim that the Russians lied, before comparing their actions to that of Trump. The nut of his pushback is excerpted here:
The already challenging work of the American intelligence and law enforcement communities was made more difficult in late July 2016, however, when Mr. Trump, then a presidential candidate, publicly called upon Russia to find the missing emails of Mrs. Clinton. By issuing such a statement, Mr. Trump was not only encouraging a foreign nation to collect intelligence against a United States citizen, but also openly authorizing his followers to work with our primary global adversary against his political opponent.
Such a public clarion call certainly makes one wonder what Mr. Trump privately encouraged his advisers to do — and what they actually did — to win the election. While I had deep insight into Russian activities during the 2016 election, I now am aware — thanks to the reporting of an open and free press — of many more of the highly suspicious dalliances of some American citizens with people affiliated with the Russian intelligence services.

Mr. Trump's claims of no collusion are, in a word, hogwash.

The only questions that remain are whether the collusion that took place constituted criminally liable conspiracy, whether obstruction of justice occurred to cover up any collusion or conspiracy, and how many members of "Trump Incorporated" attempted to defraud the government by laundering and concealing the movement of money into their pockets. A jury is about to deliberate bank and tax fraud charges against one of those people, Paul Manafort, Mr. Trump's former campaign chairman. And the campaign's former deputy chairman, Rick Gates, has pleaded guilty to financial fraud and lying to investigators.
Brennan finished with "Mr. Trump clearly has become more desperate to protect himself and those close to him, which is why he made the politically motivated decision to revoke my security clearance in an attempt to scare into silence others who might dare to challenge him," before adding "Now more than ever, it is critically important that the special counsel, Robert Mueller, and his team of investigators be allowed to complete their work without interference — from Mr. Trump or anyone else — so that all Americans can get the answers they so rightly deserve."
Brennan, a longtime civil servant in the intelligence community first started working in a senior leadership role during the Bush administration when he became Deputy Executive Director of the CIA in March 2001, serving under George Tenet. He didn't become Director of the CIA under Obama until 2013, so it's not fair to label Brennan as a political ideologue since he served under both Republican and Democratic administrations.
Brennan has been a very vocal critic of the Trump administration and has used the weight and gravity of his previous experiences to make what appears — to many laymen at least — to be the well-informed commentary on allegations that the Trump campaign colluded with Russian efforts to undermine the 2016 General Election.  This appears to be among the reasons why the White House revoked his security clearance and action that has not been taken by any previous administrations in recent memory.
Have a tip we should know? tips@mediaite.com