Spicer's Short Press Briefings Result of Increasing Frustrations With Press Corps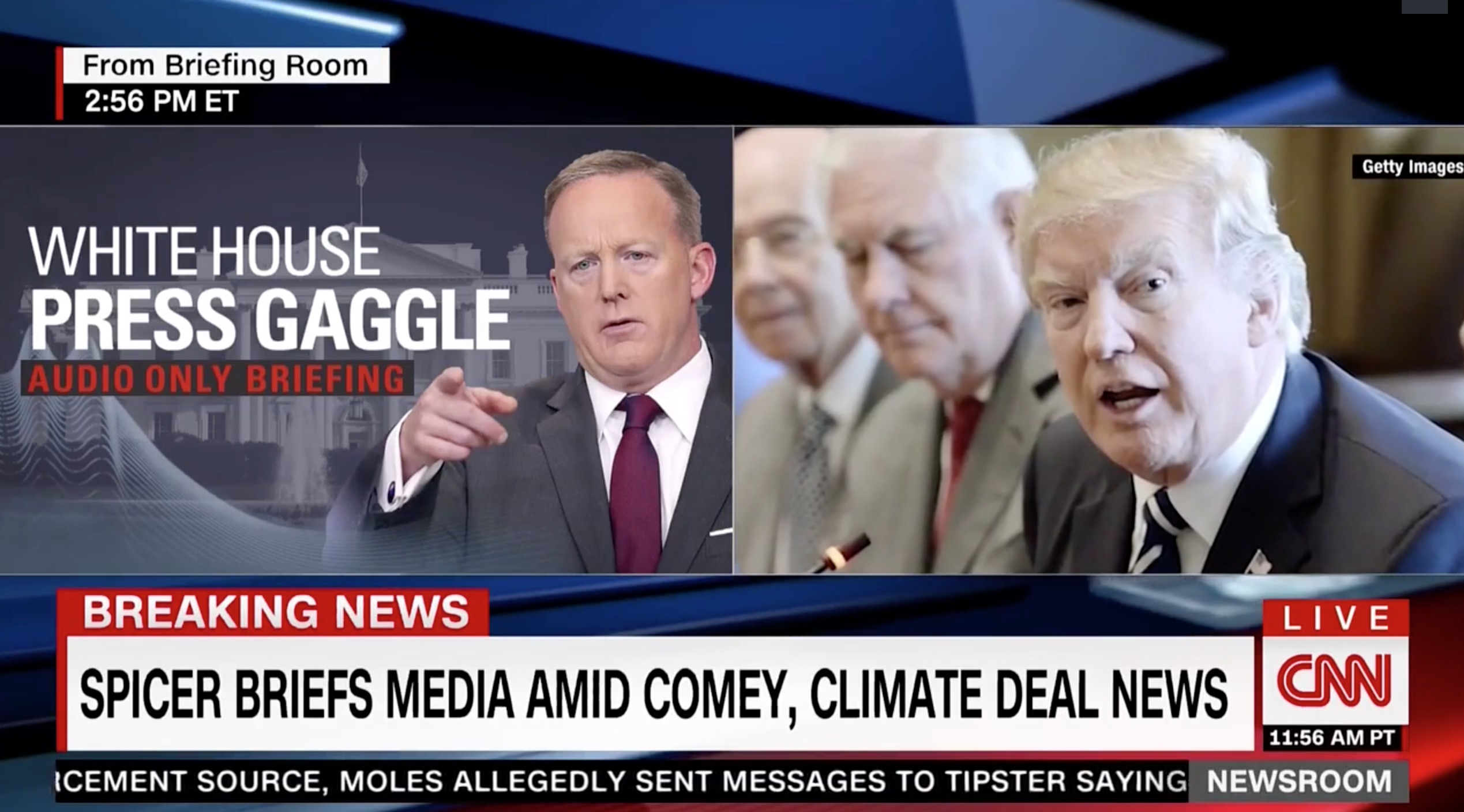 Press Secretary Sean Spicer's strange two days of press briefings since returning from President Donald Trump's foreign odyssey this week are the result of a White House increasingly frustrated with the press corps, according to a report by CNN's Dylan Byers.
After two weeks abroad, during which reports detailing the investigation into the Trump campaign's Russia-ties continued to rock the White House, Spicer returned to the podium Tuesday for a combative and truncated briefing, which lasted less than 20 minutes.
In that Tuesday session, Spicer derided the press for an erroneous tweet by a BBC journalist alleging Trump was not wearing an earpiece during a speech by the Italian Prime Minister and declined to address the Russia reports in any detail.
The next day, Spicer held an off-camera gaggle that was even shorter, and left abruptly after providing few direct or substantive answers to reporters' questions: he demurred when asked about the president's selective outrage with regards to Kathy Griffin, and gave the weirdest answer imaginable when asked to explain Trump's "covfefe" typo.
The "evasion may also reflect what sources close to Spicer describe as the White House's waning patience with the press corps," explains Byers.
He continues:
As Spicer stated Tuesday, both he and the president are frustrated with what the press secretary has described as a preponderance of fake and false news stories. The way Spicer sees it, the sources close to him said, is that many reporters are obsessed with palace intrigue and minutiae, and are waging a smear campaign against the president.
The CNN report notes that Spicer "is also frustrated by the media's treatment of him," notably reports that he "chafes at reports suggesting Trump is planning to shake up the communications team because he isn't satisfied with Spicer's performance."
"He is particularly irked by the way the media interpreted his absence from Trump's visit with the Pope as the president snubbing him," Byers adds.
There was much speculation as to why Spicer, a devout Catholic, was excluded from the president's visit to the Vatican, with sources claiming the exclusion should have been seen as a slight to the beleaguered press secretary.
As reports swirl that Trump is planning a further shakeup of the White House communications team following the resignation of comms director Mike Dubke, the short briefings could be a sign that Spicer is next on the way out.
But for those aching to see Spicer go, a splash of cold water courtesy of Byers:
[S]ome of the sources close to Spicer warned that scuttlebutt about impending shakeups has been a feature of Trump's tenure in the White House since the beginning, and yet little has actually shaken up. For the foreseeable future, they say, Spicer is White House press secretary and will continue to hold press briefings.
[image via screengrab]
—
Follow Aidan McLaughlin (@aidnmclaughlin) on Twitter
Have a tip we should know? tips@mediaite.com
Aidan McLaughlin - Editor in Chief