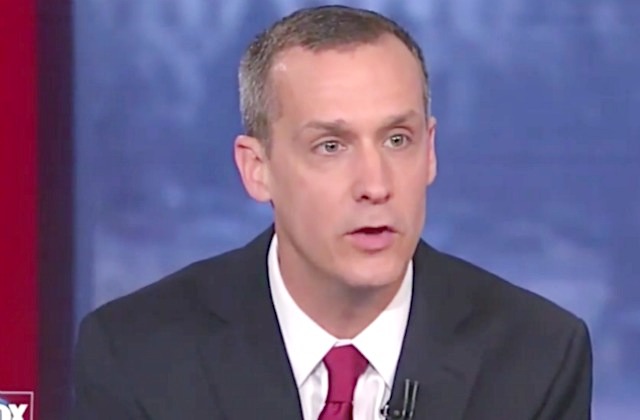 Corey Lewandowski, former campaign manager for Donald Trump who has remained close to the president, and recently bolstered his status as an unofficial White House adviser, has launched a new consulting business in Washington D.C., according to The New York Times.
After Trump's election in November, Lewandowski took his connections with the incoming administration to Washington D.C., launching Avenue Strategies, ostensibly a lobbying firm masquerading as a consulting business (he never formally registered as a lobbyist.)
Lewandowski later resigned from Avenue — a firm with impressive offices just blocks from the White House — after it was revealed he was selling foreign clients access to Trump and other senior administration officials.
Now it appears, according to corporate filings, that just a week after leaving Avenue Strategies, Lewandowski launched Strategic Advisors, a consulting business that is "building a roster of clients with major interests before the Trump administration, including an Ohio-based payday lender seeking to block or overturn new federal financial regulations."
Per the Times:
Mr. Lewandowski appears to be positioning his new firm as an "advisory" business, part of a growing cohort of Washington influencers who advise companies on how to navigate the government but do not register as lobbyists or disclose their clients.
Lewandowski's continued efforts to profit off of his proximity to the White House seems to fly in the face of Trump's "Drain The Swamp!" campaign rhetoric — but he's not alone amongst former campaign staffers in his attempts to cash-in: as the Times notes, former aide Jason Miller and Trump lawyer Michael D. Cohen have both secured gigs with lobbying firms.
In an email to the Times, Lewandowski wrote "I don't lobby and I don't intend to lobby — ever." But this would not be the first time the pugnacious New Hampshire operative has furiously denied his very obvious desires to be a D.C. lobbyist. In January, The Guardian grilled Lewandowski about Avenue Strategies, and the result was nothing short of magical:
[image via screengrab]
—
Follow Aidan McLaughlin (@aidnmclaughlin) on Twitter
Have a tip we should know? tips@mediaite.com
Aidan McLaughlin - Editor in Chief