'Millionaire Matchmaker' Patti Stanger Tries (And Fails) To Apologize For Offensive Gay Comments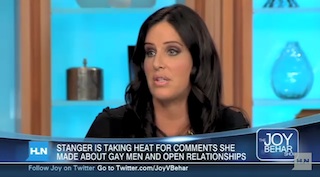 If you're like me, then, only a few hours ago, you had no idea who Patti Stanger is. Hell, the phrase "Millionaire Matchmaker" makes me want to look into prices for mountainside hermit cabins and, when a friend linked to an article entitled "In Praise of Queens" this morning on Tumblr, I assumed it was about the borough. That being said, I'm as fascinated by a big media meltdown as much as the next guy so, for everyone who hasn't been following the story, here's a run down on why a large community is furious at Stanger and how she made things even worse today on HLN.
Stanger, who got in trouble only last week after advising single women they needed to be dumber to get a man, got in a lot of heat for allegedly purporting negative gay stereotypes while guesting on Bravo's Watch What Happens Live.
That's right. She said mean things about gay people. While on Bravo. Bravo. That's like going into a lion's den and doing a live TV show where you say manes look stupid.
She was there to give relationship advice and, during her time there, told callers that gay men can't have monogamous relationships, Jewish people lie, and said an audience member looked "straight" and that he should take it as "a compliment."
Jeez. Maybe she's just single and following her own advice.
Unsurprisingly, it was time for a full scale apology campaign. However, during her appearance on HLN's Joy Behar Show, she just managed to make things worse. Behar gave her an out by asking her if her comments on gay promiscuity were due to male nature, but Stanger doubled down, explaining that gay men "whip it out at eye lock."
Nice. Even CNN titled their online clip "Did Millionaire Matchmaker apology backfire?"
Lesson here: don't make massive generalizations about minority groups on live television. And when you're given a chance to apologize, you smile and point out that you only meant some of that group. Because nothing describes the entirety of a group.
Unless that group is "Millionaire Matchmakers." I hear all those people are kind of dumb.
Here's her HLN appearance:
Have a tip we should know? [email protected]