'Not About Politics': Rubio Slams Hillary Over Benghazi, 'Congratulates' Fox News For Persistent Coverage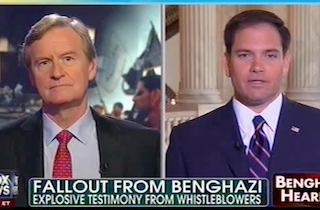 Sen. Marco Rubio (R-FL) appeared on Fox & Friends on Thursday morning to react to yesterday's congressional hearing about the attack on the U.S. consulate in Benghazi. The senator emphasized that the issue was about accountability and not politics — congratulating "Fox News and others" for their persistent coverage of the issue.
Rubio felt the hearing was "very insightful," leaving little else to be learned at this point. The post probably should not have been open and didn't have adequate security, he noted, adding that they didn't have enough resources to respond to an attack (plus those saying something could've been done about the second wave).
"These four things are very, very troubling, and I just want to congratulate those like Fox News and others that have kept on this issue," Rubio asserted. "Because this is not about politics. This is about accountability. […] This is not about hurting anybody politically. This is about getting to the truth so people can be held accountable and we can prevent this from happening again in the future."
From there, Steve Doocy segued into the issue of UN Ambassador Susan Rice and the talking points. Rubio noted, as other critics have, that the president was seeking re-election and didn't want to counter the narrative about successfully curtailing terrorism.
"That was the political motivation behind it," he hypothesized. "What I think is sad is how many people that are around the administration, including the former secretary of state, Secretary Clinton, knew this to be the case and allowed this to move forward anyway. You would hope the people would have stood up and said this is wrong, the American people deserve the truth. That didn't happen."
Take a look, via Fox News:

Have a tip we should know? [email protected]