'Occupy With Aloha' Musician Plays 45 Minute Protest Song At President Obama's APEC Gala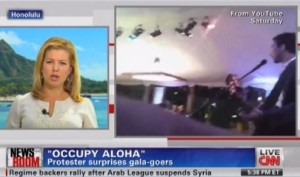 For all those political observers waiting for someone to "Soy Bomb" one of the Republican debates, your wait continues, but a gala reception for the Asian Pacific Economic Cooperation this weekend featured its own guerrilla diversion. Makana, a musician invited to perform at the gala by the White House, wore an "Occupy With Aloha" t-shirt, and played "We Are the Many," a protest song that he'd written, for 45 minutes.
CNN describes Makana as a "sympathizer with Occupy Wall Street," as evidenced by that telltale shirt, and they report that the guitarist played to a small crowd consisting of President and Mrs. Obama, the other leaders at APEC, and their spouses. After playing a variety of songs, he opened his jacket to reveal the "Occupy With Aloha" shirt, then launched into a 45 minute rendition of his protest song, "We Are The Many."
In a Youtube video explaining his action, Makana said that when he played the song, he realized, "I didn't get in trouble," so he played it again, and continued to play variations on the song for 45 minutes. "It was an epic feeling," he said.
As yet, there has been no confirmation of a report that, halfway through the performance, President Obama yelled, "Play Freebird!"
Makana's earnest, quiet (if lengthy) protest is sure to become an iconic moment in the Occupy Wall Street movement, which has invaded American popular culture in fairly short order. It will also likely spawn torrents of outrage from its detractors, who will dissect Makana's lyrics for words like "rage" and "fairness."
Perhaps the real heroes here, though, are the members of that audience. Hell, I get impatient listening to Stairway To Heaven, and that's only, like, seven minutes long.
CNN's Brianna Keilar reports that attendees may not have noticed the "challenging" nature of Makana's lyrics ("we occupy the streets, we'll occupy the courts, we'll occupy the offices of you, until you do the bidding of the many, and not the few") because the music was so mellow. It's also possible that, since he was behaving himself and laying down some decent background music, ejecting the guy would not have been the kind of statement the President, who has expressed empathy for the OWS movement, wants to make.
Here's CNN's report on Makana's performance, from CNN:
Have a tip we should know? tips@mediaite.com