$10 Mil Chandelier Keith Olbermann Shattered Glass In On-Set Tantrum, Internal Email Reveals
$10 Mil Chandelier Olbermann Shattered Glass In On-Set Tantrum, Internal Email Reveals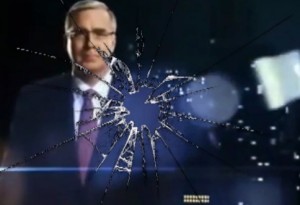 The escalating feud between $10 million chandelier Keith Olbermann and Current TV, the "house" that broke the bank to install him, comes into sharper focus by the day. Internal emails obtained by Mediaite paint the picture of a temperamental star that has been the subject of rumors for years. One of the emails reveals that Olbermann, in a fit of rage, threw a glass mug that shattered all over the set, causing the building's owner to complain. Sources say the entire incident was captured on video.
The emails begin innocuously enough, with Olbermann responding to a September 12 invitation to meet with Current TV President David Bohrman by saying he's "Far behind due to the AC problems."
In October, Olbermann complained about noisy garbage cans, which seems pretty reasonable. However, he handled the complaint by asking a senior producer to send an email to the president of the network, David Bohrman:
From: Aaron Volkman
Subject: garbage cans
Date: October 13, 2011 9:29:18 PM EDT
To: David Bohrman

KO asked me to put this in an email to you. Towards the end of the show tonight, while we were on-air around 8:55pm, someone on set or nearby set (I couldn't tell from the explanation, but seemingly an NEP (NEP is Current's landlord) staffer though I don't know if it was a crew member) was dragging garbage cans around. They were loud and distracting and KO heard.
In another October email, Executive Producer David Sarosi relayed complaints to NEP Studios about one of their camera operators:
From: David Sarosi
Date: October 31, 2011 9:29:09 PM EDT
To: (NEP Studios)
Cc: David Bohrman
Subject: Camera 1 Operator

His shortcomings have become too much.

Last night he was taking pictures of KO with his cell phone before the show without so much as
asking.

We've repeatedly asked that he not engage KO or our guests before, during or after the show, but
our request has fallen on deaf ears.

It's time to make a change.

I have talked Chris Ballante and he is aware of the situation.
In early November, Sarosi sent an all-caps missive to the entire staff, warning them to steer clear of Olbermann:
From: David Sarosi
Sent: Wednesday, November 02, 2011 4:54 PM
To: countdownstaff
Subject: PLEASE

NO EMAILS, TOPLINES, DOORKNOCKS, PHONE CALLS, SMOKE SIGNALS, ESP, SNAIL MAIL OR OTHER ANY
OTHER FORM OF COMMUNICATION WITH KO FOR THE NEXT 45MINS to 1HR
I'LL LET YOU KNOW WHEN THE COAST IS CLEAR.
THANKS, DAVE.
A few days later, Countdown Director Chris Ballante gingerly emailed Olbermann to ask permission to do a reaction shot, and got a terse reply:
From: Christopher Ballante
Sent: Tuesday, November 08, 2011 5:57 PM
To: Keith Olbermann
Subject: PLASMA GUEST

WHO IS IT TONIGHT SIR? IS IT OK TO TAKE A REACTION SHOT OF YOU DURING THE PERFORMANCE?

From: Keith Olbermann
Sent: Tuesday, November 08, 2011 6:08 PM
To: Christopher Ballante
Subject: RE: PLASMA GUEST

Don't
There's also a more recent email that, in all honesty, pretty much any office-dweller could relate to:
From: Keith Olbermann
Sent: Monday, March 12, 2012 7:58 PM
To: Christopher Ballante; David Sarosi
Subject: who is the guy out here…

…hocking phlegm and sniffling and talking 5x as loud as necessary into the talkback?
But it was on November 21 that things came to a head, in an incident that sources familiar with the situation say was caught on video. Current's East Coast Vice President of Broadcast Operations & Engineering Jeff Polikoff forwarded an email from an NEP Executive who was concerned for the safety of his staff:
From: Jeff Polikoff
Subject: Re: KO actions on 11/21/11
Date: November 22, 2011 2:26:57 PM PST
To: David Bohrman

David,
Last night a remote segment with KO was cut short abruptly due to the satellite feed being cut off.

The guest had arrived late and was rescheduled to a later time in the show. Unfortunately our lines coordinator forgot to extend the satellite window.

KO as you will read below got a little emotional.

On Nov 22, 2011, at 3:57 PM, Barry Katz wrote:

Jeff,

As I know you are aware, Keith created a potentially dangerous situation last night when he threw with full force a glass mug at the set hitting a solid part of it that caused the mug to shatter.

I know this was caused by the satellite time ending before the interview was over but had the broken glass hit someone in the studio, this could have caused injury and potentially having to bring in EMT's to help the injured person. In addition, the spill left from the fluid (I assume water) could have caused someone to slip which is also a dangerous condition.

I don't know if Keith has been spoken to about such acts and I certainly understand how difficult such a conversation can be with him. However, throwing things in the studio is not acceptable as it creates a potentially dangerous situation for anyone in the studio at that time.

Please let me know if this has been addressed with him.

Barry
Unfortunately, the video hasn't been made public, but if or when it does, it won't do much for Olbermann's image, or employment prospects.
Have a tip we should know? tips@mediaite.com