10 Years Later: Morning Joe Spars Over 'Very Large Deception,' 'False Claims' That Led To Iraq War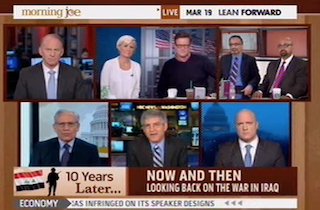 With the 10-year anniversary of the war in Iraq upon us, an expected topic of discussion when reflecting is how we began the war in the first place — the reports and information leading up to it. Morning Joe was among those tackling that debate this morning, and it was, indeed, a debate. While some of the panel spoke of "deception" and "false claims," other took issue with that assertion.
With 20/20 hindsight, Joe Scarborough wondered how "so many of us could've gotten so much wrong." Michael Isikoff had a simple answer: "the false claims" about the threat Iraq posed, which, ultimately, will be what history remembers.
False claims from whom? Scarborough asked, noting it wasn't only President George W. Bush. "Your CIA director who works 24 hours a day going through intel, who missed a big one a year and a half before, tells you, 'Mr. President, it's a slam dunk, Saddam Hussein has weapons of mass destruction.' Seems to me this is a blame that is shared by many in Washington, isn't it?"
It is shared, Isikoff agreed, still placing an emphasis on the commander-in-chief, who'd be expected to read the intelligence estimate "riddled with dissents from within that intelligence community." But "wasn't the preponderance of the evidence coming from the CIA, coming from our intel community, coming from intel communities across the globe that Saddam Hussein had weapons of mass destruction?" Scarborough pressed.
"That sort of consensus judgment of the intelligence community," Isikoff countered, "then got embellished, twisted, exaggerated and turned into something that turned into a completely false picture of a gathering threat, amassing weapons that were going to threaten us." All things considered, it was "a very large deception of the American public."
Richard Haass then jumped in, disagreeing. "It wasn't a deception," he said, noting that he did oppose the war. Beyond just the WMDs, "they wanted to send the world a message" post-9/11, he argued, that the United States was not "helpless."
Adding in a different angle to the discussion, TIME's Bobby Ghosh said many Iraqis don't care so much about the excuses and explanations, but rather, the "mistakes" that followed. "It needn't have been this way," he asserted.
Take a look, via MSNBC:

Have a tip we should know? tips@mediaite.com