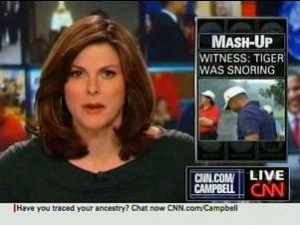 CNN has reached a historic ratings low during prime time in the A25-54 demographic, finishing as the fourth place cable news network in that category now 100 times during 2009. This means CNN finished behind Fox News, MSNBC and sister network HLN.
While CNN's daytime line-up has seen far more success – generally finishing in 2nd place behind just FNC – their prime time line-up has not yet turned around.
This is by far the most times this has ever happened for CNN. The network has now finished in 4th place in that category 41% of 2009 weeknights. It's a dramatic fall from 2008, when Anderson Cooper's 10pmET hour actually won the prime time demo, even topping his FNC competition. 2008 of course was a very big year for CNN, as the presidential election dominated coverage. But while CNN's prime time ratings have not dropped off significantly from 2007 and before, the competition is growing enormously, and leaving CNN behind in the category.
The 100th occurrence was Thursday night. As the year ends, CNN is finishing fourth more and more often. The network was 4th in the prime time demo 13 nights during November – more times than any other month.
Prime time demo is just one of the many categories CNN and other networks use to sell against, and CNN continues to push the fact that it is performing strongly during the day. And it should be noted that while CNN drops in prime time, their sister network HLN is doing well – which benefits CNN's parent company as a whole. Still, as CNN pushes the line, "More people turn to CNN because journalism matters," (have you seen that anywhere today?) it appears more and more clear that people are turning to opinion during prime time.
—–
» Follow Steve Krakauer on Twitter
Have a tip we should know? tips@mediaite.com