100-Year-Old Granny Hilariously Derails Interview By Asking TV Reporter: 'How Ya D*ck Hanging?'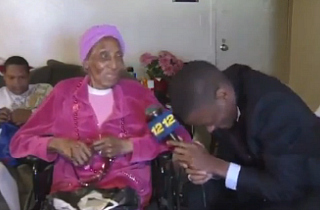 Getting old can be frightening, debilitating, and a generally not-so-fun time. But apparently that's not the case for one particular great-grandmother in the New York metropolitan region. In a recent unaired interview with News12, an unidentified 100-year-old woman had a rollicking good time, effectively derailing the conversation by repeatedly referring to her interviewer's genitals.

"How ya dick hanging?" the elderly woman asked the interviewer as he sat down to ask her innocuous questions about her ripe old age. Her family erupted in laughter as the man blushed and joked that they should instead focus on her birthday.
Things proceeded along rather smoothly until the interviewer asked "What are you doing to celebrate your birthday?"
"Gettin' a piece of that," granny replied, sending the room into laughter once again.
After her family pleaded with her to "keep it PG" and tell the reporter what it means to her to be 100-years-old, she smiled and joked to the camera: "What it means to be 100-years-old is I can get 100 dicks."
One of her relatives asked her again to try and focus on the family-oriented aspects of her old age, with a particular emphasis on "the good stuff." Naturally, the grandma-turned-comedian saw a perfect setup and went for the punchline: "The good stuff is the dicks!"
"She's 100 and I ain't telling her nothing," the reporter joked after realizing he wasn't going to get many more usable soundbites.
Watch the whole thing below:
— —
>> Follow Andrew Kirell (@AndrewKirell) on Twitter
Have a tip we should know? tips@mediaite.com