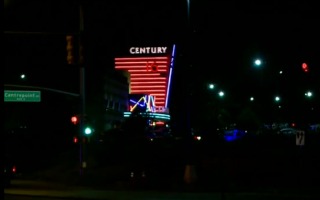 Fourteen people are dead and approximately 50 others injured (at 8:22 a.m., CNN is reporting 12 dead, 38 injured — we'll keep an eye on the numbers) after a masked gunman began shooting film-goers during an Aurora, Colorado theater's midnight showing of The Dark Knight Rises. The gunman was said to have been in possession of three guns, and authorities are searching the suspect's home for explosives. Witnesses describe hearing a loud explosion and seeing thick smoke before the gunman opened fire on the crowd.
Local NBC affiliate KUSA interviewed a witness at the scene, who described the harrowing experience, including how some in the theater had initially though the bang was part of the movie as it occurred during a shootout scene. The man believes he was in the theater adjacent to where the shooting occurred. He describes a second-hand account of the gunman, who witnesses say was dressed in protective or military gear:
We will continue to update this story as more information is available.
Update: Fox News reports that the suspect is a 24-year-old male now in police custody, adding that police are checking his Aurora apartment and his vehicle following a statement he made regarding explosive devices.
Update II: Fox News spoke with a local reporter, who describes the use of tear gas at the scene, adding that gang units arrived at the scene, although there is no official confirmation that the shooting was gang-related:
Update III: President Barack Obama has issued a statement on the shooting, pledging support to the people of Aurora:
Michelle and I are shocked and saddened by the horrific and tragic shooting in Colorado. Federal and local law enforcement are still responding, and my Administration will do everything that we can to support the people of Aurora in this extraordinarily difficult time. We are committed to bringing whoever was responsible to justice, ensuring the safety of our people, and caring for those who have been wounded. As we do when confronted by moments of darkness and challenge, we must now come together as one American family. All of us must have the people of Aurora in our thoughts and prayers as they confront the loss of family, friends, and neighbors, and we must stand together with them in the challenging hours and days to come.
Update IV: Republican presidential candidate Mitt Romney has also offered a reaction to this morning's events:
Ann and I are deeply saddened by the news of the senseless violence that took the lives of 15 people in Colorado and injured dozens more. We are praying for the families and loved ones of the victims during this time of deep shock and immense grief. We expect that the person responsible for this terrible crime will be quickly brought to justice.
Update V: WSMV.com reports that the suspect is a 24-year-old white male who was wearing body armor and a gas mask. In addition to the two guns he had been carrying, a third gun "may have been hidden in the theater."
His apartment complex has been evacuated.
Update VI: Amateur video posted to YouTube shows the confusion as people exited the theater. One man, wearing a striped polo, is seen splattered with blood. Some can be heard urging others to leave as movie patrons run out of the building:
Update VII: ABCNews.com has identified the suspected shooter as 24-year-old James Holmes of North Aurora.
Update VIII: CBSNews.com reports that police recovered a total of four guns at the scene — "one shotgun, two pistols and what is believed to be an assault rifle" — in addition to a gas mask.
Update IX: CNN's Starting Point is reporting that, according to police, no explosives were found during a sweep of the suspect's apartment:
CNN reports this morning that "items of interest" have been removed from the suspect's apartment.
NOTE (11:35 am): New reports now indicate that explosive material has indeed been found within Holmes' apartment, which has been described as "booby trapped" with "sophisticated devices."
Update X: Reddit has published a comprehensive timeline of the shooting.
h/t Mashable
Have a tip we should know? [email protected]