14 Random Reasons Why This Was the Worst Super Bowl Ever
Concha: 14 Random Reasons Why This Was the Worst Super Bowl Ever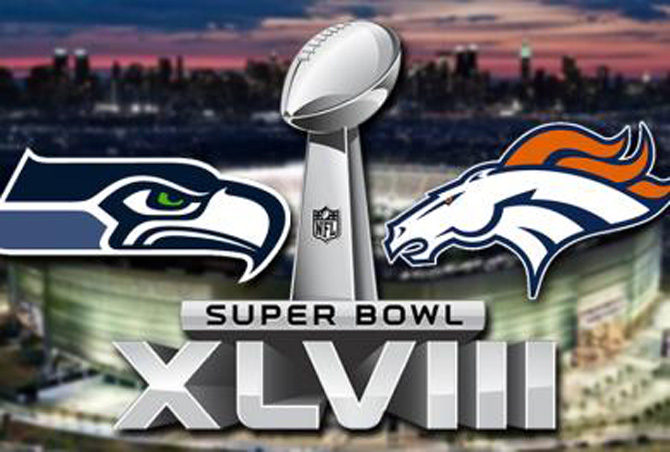 You know you're watching the worst Super Bowl ever when the New York area was partly chosen with the hopes of snow, cold, snow and…snow (because games in the white stuff always rate higher), only for it to be the warmest day of the year.
You know it's bad when the coin toss has to be done twice after a false start/flip by a mink-wearing (in 50-degree weather, mind you) Joe Willie Namath.
You know it's bad when the national anthem begins, and at least four different people at your Super Bowl party see the singer (Renee Fleming) and ask the same question: "Uhhhh…who is that?"
You know it's bad when New Jersey Transit trains got so hot inside (again, this is the first cold weather Super Bowl) that EMTs had to be called in to treat those passing out while waiting in hours of delays to get to and from the game. Another traffic study may be in order…
You know it's bad when the first play of the game goes for a not-so-rare-anymore-safety (which pays 12-1 despite now having occurred in each of the past three Super Bowls).
You know it's bad when commercial after commercial—ads that cost $4 million to air and God-knows-how-much-to-produce—end up being characterized in the following fashion: baffling, annoying, asinine, average, and…baffling. Outside of Budweiser's Puppy Love (viewed over 35 million times on YouTube before the game) and Audi's awesome Doberhuahua ad, every other spot almost seemed like it was trying to suck. But there is a decent alibi: When the bar is set so high for every Super Bowl commercials to be great (a tough achievement when trying to tell a story in 30-60 seconds), after 48 years…there just might not be too many original ideas left.
You know it's bad when a Jersey-based Super Bowl features Bruno Mars as its halftime entertainment… somehow getting the nod over state legends Bon Jovi and Bruce Springsteen. At least the Seinfeld quickie-semi-reunion was awesome. Newman rules.
You know it's really bad if you're playing the Peyton Manning Drinking Game, which consists of taking a swig whenever the QB says the word "Omaha"…and it happens a grand total of two times. Two weeks ago, Manning had yelled it 31 times in the AFC Championship Game, not that anyone playing the PMDG remembers.
You know it's bad when Seattle's special teams and defense outscores Denver's offense, 22-8.
You know it's bad when Bob Dylan appears in an ad for Chrysler and says the following, "Is there anything more American than America?" Issue #1: I actually understood every word Dylan said (this is usually an issue). Issue #2: Who wrote that script, Yogi Berra? Befuddling, indeed…
You know it's bad when you see a shirtless Flea on stage with the rest of the Red Hot Chili Peppers, only to have someone in the room look up from his phone (researching) and say, "Wow…did you know Flea is (expletive) 52?"
You know you're watching the worst Super Bowl ever when the friggin' Pro Bowl—a game that the league almost cancelled forever due to of non-competitive play—was infinitely better the week before (a 22-21 thriller).
You know it's bad when Richard Sherman is carted off the field in the 4th quarter, thereby depriving us of another postgame soliloquy (which, given the score, would have absolutely been the classiest and most polite performance in the history of the game).
And you know you're watching the worst Super Bowl ever when Peyton Manning completes 34 passes (a Super Bowl record), with 13 of those 34 caught by his best receiver (Demariyus Thomas, who also set a Super Bowl record), and still ends up on the other end of a 43-8 score in a game that wasn't even that close.
An NJ.com poll now asks which of these four Super Bowls was the worst of all-time:
Seahawks 43, Broncos 8 (2014)
49ers 55, Broncos 10 (1990)
Ravens 34, Giants 7 (2001)
Cowboys 52, Bills 17 (1993)
49ers 49, Chargers 26 (1995)
As of Monday morning, this year's crap-tastic contest is leading with 84 percent of the vote.
This is no knock on the Seattle Seahawks, of course. It's not their fault for being so dominant, so hungry, so resourceful in turning the Broncos into the 1980s version that lost three Super Bowls by a combined score of 136-40. Given the Seahawks' youth, talent and home-field advantage, we're now looking at a potential dynasty in a salary-cap league that doesn't produce many dynasties anymore. By the way, Seattle can now say they've beaten opponents with the last name of Manning at MetLife Stadium this season by a 66-8 margin.
America has been lucky over the past six years to witness some incredible Super Bowls, when every game came down to the final two minutes (five of six were decided by six points or less). Guess we can't have a great game every year…
But for a Super Bowl as hyped as this one, it truly is disappointing to write the following three sentences:
Worst. Super Bowl. Ever.
— —
Follow Joe Concha on Twitter @ConchaMedia
Have a tip we should know? tips@mediaite.com