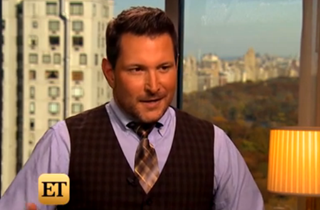 Yesterday, two country stars, Ty Herndon and Billy Gilman, made major news by revealing that they both were gay, with Herndon coming out in an interview with Entertainment Tonight and Gilman revealing his orientation to his Twitter fans.
"I have an awesome relationship that I've been in for a good number of years," Herndon said last night in a pre-taped interview.
Herndon, who has been married twice to two women, said that he'd been struggling with his sexuality since childhood, and believed for years that he couldn't be gay and a country singer. "I've dreamed about being in country music since I was 6 years old," he said. "It's my life, it's what I do, it's who I am, and I went to great lengths to cover up that fact to be to be a country star."
Despite the potential damage it could do to his career, Herndon says he wanted to let the public know. ""Traditionally in country music, we don't see a lot of support for the LGBT community, but that's changing so much," he said, referring to Kacey Musgrave's CMA-winning single "Follow Your Arrow," widely seen as pro-LGBT rights. "It gives me a lot of hope that that Nashville is ready for this. I get to be free today. I'm born again today, and I feel like I'm not gonna have any trouble sleeping tonight."
Inspired by Herndon, Gilman, whose personal life was dogged by rumors about his sexuality, took to YouTube yesterday to talk directly to his fans: "It was in that moment that I knew that I'd rather it be from me than you reading it somewhere else," he said.
Watch an excerpt of the interview below, via Entertainment Tonight:
And here's Gilman's video:
[ETOnline.com]
[Image via screenshot]
—
>> Follow Tina Nguyen (@Tina_Nguyen) on Twitter
Have a tip we should know? tips@mediaite.com