2006 Rachel Maddow Dismisses Coulter To Tucker Carlson: 'I Don't Think She Makes Much Sense'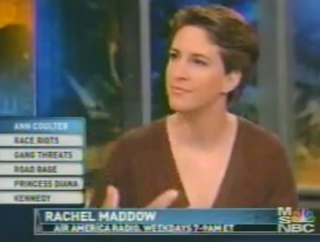 Watching the prim, polished Rachel Maddow show as it exists today– MSNBC's flagship– it's hard to recall the days Rachel Maddow was a radio host first and foremost, with some gigs on TV on the side. Her first regular stint on national television was on The Situation with Tucker Carlson– a news opinion program that preceded both Wolf Blitzer's The Situation Room and Jersey Shore's Mike "The Situation" Sorrentino, and eventually became simply Tucker, giving way to a series of programs before ceding the 9PM MSNBC spot to Maddow herself.
RELATED: Part 2 – Before She Was The Rachel Maddow: The Best Of The Maddow-Tucker Carlson Debates
This series will take a look at some of the most exciting discussions/debates on that program. In this five-part series, we watch as a less experienced but still savvy Maddow plays the combative guest to host Tucker Carlson on everything from terrorism to social issues to the horserace election politics.
Ann Coulter has been making headlines with incendiary statements for the better part of a decade, and 2006 was no exception– at the time, she had condemned the use of 9/11 victims to promote policies in a way that benefited liberals. That year, she visited The Situation with Tucker Carlson for two segments, to elaborate on her comments and her point that using victims of suffering as experts on policy was misguided. As a rebuttal, Carlson had The Situation regular and Air America host Rachel Maddow on after, to attempt to make sense of liberal ire against Coulter.
After a few jokes, Carlson called Coulter "one of those people best experienced in print," and a fun person because "she infuriates these uptight liberals." Her soundbite attacks, however, he called "a form of masochism"– one point on which Maddow agreed. "It's a way of throwing a tantrum in public," she added, explaining that the problem with her point that "liberals put up people who you're not allowed to argue with" is that the status of being a victim only deters argument if "the way you argue with people is by attacking who they are."
Carlson disagreed, making the point instead that Coulter was attacking "the liberal way of thinking that suffering confers wisdom." Maddow rephrased it as an appreciation for "people who have seen things first-hand." As for Coulter's comments on The Situation, Maddow joked, "I expected to be outraged and storm over the set and take over the microphone," but instead, she just laughed. "I don't think she makes much sense so I don't feel threatened by her… I don't even really need to respond to that."
The discussion via MSNBC below:

Have a tip we should know? tips@mediaite.com