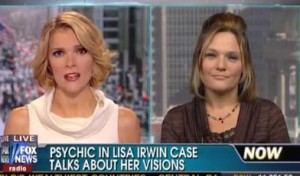 Even though Fox News is known for using offbeat guests like Ted Nugent and a stable of body-language experts, it was still a bit jarring to see hard-edged Megyn Kelly interviewing a self-proclaimed psychic on this afternoon's edition of America Live. Kelly quizzed Dallas psychic Stephanie Almaguer, with a straight face, about her efforts to help find Missouri baby Lisa Irwin, missing since early October.
Kelly introduced Almaguer by saying that "Her visions of what happened to baby Lisa Irwin sparked a new investigation for the little girl, leading dozens to comb through the property of a former casino after she said she had a vision of a person with a baby, and police say they're preparing a search of their own."
Almaguer, apparently, began blogging about baby Lisa shortly after her disappearance in October, and convinced "dozens" of volunteers to search an area that she described in drawings depicting her visions. She told Kelly she thinks baby Lisa was found dead, and moved elsewhere.
According to Examiner.com, though, a police spokesman said, "We are exploring the possibility of searching it soon. Numerous resources are needed to get it done, but no reason not to search it."
Kelly and Almaguer discussed some of the controversies that have arisen between Almaguer and some rival psychics, and Kelly concluded by asking a question her booker probably should have already covered.
"Have you ever helped law enforcement before? Is this something you've done?" Kelly asked.
"I have never helped law enforcement and — well no, I take that back," Almaguer replied. "I unofficially have. And on another case. For a very, very long time. and I did not find this child."
She then related, to Kelly, the eerie fact that a police captain on that case told her that she had brought him to an area…that he had already searched!
The whole thing would be kinda comical if not for the fact that a real missing child, and real grieving family, are involved. It's bad enough that police departments sometimes humor these cranks, news organizations should not, especially when all they have to do is check the alleged psychic's blog first. I'm a big Megyn Kelly fan, but she got snookered by her booker on this one.
Here's the clip, from Fox News:
Have a tip we should know? tips@mediaite.com