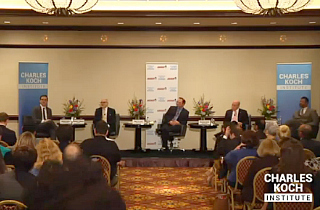 Last Wednesday evening, Mediaite hosted a major panel event in Austin, Texas, focusing on mass incarceration and criminal justice reform. Sponsored by the Charles Koch Institute, the event was called "Rule of Law: How the Criminal Justice System Impacts Well-Being" and featured Texas NAACP President Gary Bledsoe, former NYPD Commissioner Bernard Kerik, National Association of Criminal Defense Lawyers Executive Director Norman Reimer, and Texas Public Policy Foundation's Center for Effective Justice Director Marc A. Levin.
In case you missed it, we've snipped three of the bigger moments from the event here for you to watch.
Kerik kicked off the event by describing his journey from being New York City's "tough on crime" commissioner to serving three years in federal prison, emerging as one of the nation's foremost criminal justice reformers. He told the audience about how he served time with men who'd committed non-violent, often victimless crimes and yet were shipped off to prison at taxpayer expense.
He also stunned the audience with his blunt assessment of racial injustices ingrained within the system. The former law enforcement official described being "sickened" after an encounter with young black man who was sentenced to 10 years for 5 grams of cocaine. Watch the snippet below:
At another point during the discussion, former criminal defense lawyer Reimer brought up the substantial loss of rights that comes with being imprisoned. He lambasted the one-size-fits-all model of determining collateral consequences for convicted criminals and riled the audience into applause with a fiery sermon about the ills of punishing people in ways that have nothing to do with the crimes committed:
Texas NAACP's president Bledsoe spoke largely about the racial disparities, but towards the end of the event he gave an interesting take on how the media can more effectively tell the stories of those negatively affected by the criminal justice system. He asserted that it's actually quite easy to find examples of people victimized by the system, pointing to a black man who was sentenced to 40 years for one joint:
You can watch the full 75-minute-long event here.
— —
>> Follow Andrew Kirell (@AndrewKirell) on Twitter
Have a tip we should know? tips@mediaite.com