Four Dead Americans A 'Phony Scandal'? The Five Explodes Over Obama & Hillary's Benghazi 'Lies'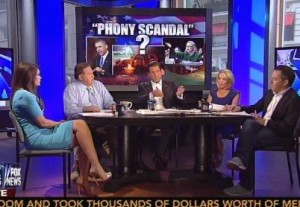 On Fox's The Five today, Bob Beckel's army of one battled his four co-hosts on The Five over the Benghazi scandal, including the newest revelation that CNN was able to interview one of the accused suspects. The other hosts asserted that the Obama administration has "no leads" and isn't investigating it as much as they could, while Beckel shot back that they have no evidence of that, and predicted that by the end of the year, everyone involved will either be dead or brought to justice and they will eat their words.
RELATED: CNN Interviews Accused Benghazi Attack Perpetrator: Not In Hiding, Claims FBI Not Looking For Him
Bolling reminded viewers that months ago President Obama was promising justice would be done, remarking, "Nice job, President O. You have no suspects, no interviews, no leads, and no answers." He found it stunning that not only Obama, but also Jay Carney, would have the "cohones" to call this a "phony scandal."
Beckel fired back, "You have no idea whether they have any leads, whether they have any suspects." He made a bold prediction that by the end of the year, none of the people involved in the attack would remain free. Kimberly Guilfoyle thought it was striking how the administration seems to have less ability than a news network to track down people involved in the attack.
Greg Gutfeld called Obama as "relentless as a stoner," darkly noting that calling Benghazi a phony scandal would be like "calling the Boston Marathon bombing a 'running injury'" and asked if Obama doesn't care about this scandal because "none of the victims didn't look like his son or it could have been him 35 years ago."
Beckel declared, "We will bring these people to justice, just as Obama said, and you'll sit back and you're gonna eat your words." He repeatedly asked the others how they could possibly think the president does not matter about four dead Americans, and when Bolling suggested Obama and Hillary Clinton may have colluded over spin tactics, Beckel shot back, "That is the kind of statement that you make when you know not what you're talking about.", yes they pushed it under the rug to win in 2012, to suggest they were colluding on 2016 is "ridiculous!"
Watch the video below, via Fox News:
—–
Follow Josh Feldman on Twitter: @feldmaniac
Have a tip we should know? [email protected]
Josh Feldman - Senior Editor