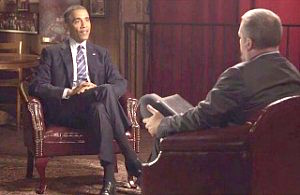 On Monday afternoon (at 4:20 p.m., of course) Vice News released their CEO Shane Smith's full interview with President Barack Obama. As hinted in teaser clips, the president talked about current affairs ranging from the Iran deal to congressional gridlock to climate change to the debate over marijuana legalization.
Here are the main quotes you need to know from the interview:

Obama: Some in Congress Are 'Shills' for Oil Companies
Asked by Smith why it's so difficult to convince Americans to take stronger action on anthropogenic climate change, the president didn't mince words, using colorful language to describe certain (unnamed) lawmakers who he believes are too cozy with fossil fuel companies:
If you poll folks, they're concerned about climate change, but they're even more concerned about gas prices. You can't fault somebody for being concerned about paying the bills or being able to fill up your tank to get to your job. In some cases, you have elected officials who are shills for the oil companies or the fossil fuel industry and there's a lot of money involved.
He also went after Sen. Jim Inhofe (R-OK), who infamously threw a snowball on the Senate floor to dismiss anthropogenic global warming. Inhofe is now chairman of the Senate Environment and Public Works Committee; a fact which prompted Obama pointedly described as "disturbing."
—
Obama 'Embarrassed' for GOP Senators Who Signed Iran Letter
Regarding the 47 Republican Senators who signed a letter to Iran criticizing the president's nuclear deal proposal, Obama told Smith: "I'm embarrassed for them." He continued:
For them to address a letter to the Ayatollah — who they claim is our mortal enemy, and their basic argument to them is 'Don't deal with our president because you can't trust him to follow through on an agreement' — that's close to unprecedented.
—
Rise of ISIS Proves U.S. Should 'Aim Before We Shoot'
"ISIL is a direct outgrowth of al Qaeda in Iraq, that grew out of our invasion, which is an example of unintended consequences," Obama told Smith when asked about the rise of the barbaric forces abroad. "We should generally aim before we shoot," he added on American foreign policy.
"I'm confident" coalition forces will push ISIS out of Iraq, he said before adding:
I'm worried about how, even if ISIL is defeated, the underlying problem of disaffected Sunnis around the world — but particularly in some of these areas including Libya, including Yemen — where a young man who's growing up has no education, has no prospects for the future, is looking around and the one way he can get validation, power, respect is if he's a fighter. 'And this looks like the toughest gang around, so let me affiliate with them, and now you're giving me a religious rationale for doing this.' That's a problem we're going to have, generally. And we can't keep thinking about counterterrorism and security as entirely separate from diplomacy, development, education.
—
Obama Dismisses Marijuana Legalization, but Says Criminalization Is an Issue
"It shouldn't be young people's biggest priority," he said of legal marijuana. "Let's put it in perspective: Young people, I understand this is important to you, but you should be thinking about climate change, the economy, jobs, war and peace. Maybe way at the bottom you should be thinking about marijuana."
He did, however, suggest that a reliance on criminalization rather than rehabilitation is a problem that needs fixing. "Our justice system is so heavily skewed towards cracking down on nonviolent drug offenders that it has not just had a terrible effect on many communities — particularly communities of color, rendering a lot of folks unemployable because they've got felony records, disproportionate prison sentences — it costs a huge amount of money to states."
Obama praised the "libertarian wing of the Republican Party" for recognizing the need for decriminalization.
—
Watch the full interview below, via Vice News:
— —
>> Follow Andrew Kirell (@AndrewKirell) on Twitter
Have a tip we should know? tips@mediaite.com