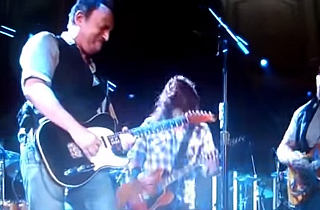 During the Veterans Day broadcast of the "Concert for Valor" on HBO, Bruce Springsteen performed "Fortunate Son" with the Foo Fighters and the Zac Brown Band.
Naturally, the Weekly Standard was displeased, reductively calling the Creedence Clearwater Revival song "anti-military," suggesting it takes shots at America, and that it therefore had no place at an event like this one.

One gets the feeling anything short of an innocuous pop song like Carrie Underwood's "Before He Cheats" would've been considered inappropriate by the crowd that can't separate support for vets from blind support for bad foreign policy decisions.
And countless pages could be spent explaining how "Fortunate Son" is not anti-vets, but rather anti-war (gasp!), with a particular indictment of the powers that send human beings off to battle. One can honor the valor of our volunteer armed forces while suggesting they are often unjustly sent off to slaughter — the two concepts are not mutually exclusive.
The best part of the Standard's standard complaint is that Metallica later performed several dark anti-war songs as well, including "Master of Puppets"** and "For Whom the Bell Tolls." And during Springsteen's solo set, he played "Born in the USA," one of his best-known critiques of war and the way American society treated the vets suffering in its wake.
My only qualm with "Fortunate Son"? Despite being a classic anthem, it's a bit of a clichéd song to perform as protest. But this was a massive, corporate-sponsored event broadcast on HBO — viewers want the easy, high-energy riffage. And so this was the perfect military-related anthem for the Boss to play with the Foos and Brown's band.
But let's say, for the sake of this article, Springsteen and co. seriously wanted to convey the fragility of human life and the idea that these brave men and women often return home wounded, physically and emotionally. Here are some other songs he could've selected to that same effect, likely without a Weekly Standard tirade*:
"Chimes of Freedom"
Not quite the big riffage of "Fortunate Son," but this Bob Dylan classic became a staple of Springsteen's late-'80s tours. Could've worked nicely during the Foo/Brown collaborative set:
—
"Shut Out the Light"
Would've been a nice addition to his solo set. The song tells the story of a vet returning home from war, unable to readjust to normal society, suffering from post-traumatic stress disorder and seeking comfort from others. It's an often-untold story, one that vets could appreciate:
—
"Devils & Dust"
Since Springsteen had to stick with the well-known hits, it's clear why this wasn't played either. But the 2005 single from its eponymous album tells the story of a troubled American soldier grappling with all the tough questions about life, death, honor, righteousness — all while fighting abroad:
—
"Last to Die"
Okay, forget trying to please the Standard crowd. If Springsteen wanted to jab the hawks in the eye, he could've played "Last to Die" off his 2007 album Magic. Directly inspired by John Kerry's 1971 anti-Vietnam War testimony, Springsteen's chorus asks "Who'll be the last to die for a mistake? / Whose blood will spill, whose heart will break."
Yes, folks, sometimes American wars are mistakes. Listen below:
—
*Okay, they'd probably be upset no matter what he played.
**Yes, I'm aware "Master of Puppets" is about drugs, but its title has been used in a Dylan-like "Masters of War" fashion. The drug addiction is a metaphor for America's addiction to war, man.
— —
>> Follow Andrew Kirell (@AndrewKirell) on Twitter
Have a tip we should know? [email protected]