51-Year-Old Actor And 16-Year-Old Bride Give Totally Not At All Creepy Interview To GMA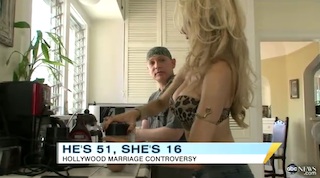 How about we send you off into the weekend with a bit of true love, a little something beautiful to warm your hearts? Well, we're not sure we have that. What we do have is some video of Doug Hutchison and Courtney Stodden whose marriage last May led to a big Internet uproar (and a pretty great Anderson Cooper segment). The reason people were so upset; he's 51 and she's 16.
The newlyweds gave their first interview to Good Morning America and it's everything you'd imagine and more.
This is one of those videos where I don't want to ruin the surprise of you watching it yourself (also, to be honest, I couldn't get through the whole thing), so here's a quick rundown of the fun stuff I learned:
The couple met after Stodden signed up for an acting class run by Hutchison (most famous for a villainous role in the movie The Green Mile).
Their courtship happened online, all under the watchful gaze of Stodden's mother who condoned the whole thing.
There are 39 states where a 16-year-old, with written parental permission, can marry a 51-year-old (For those keeping score at home, that's 33 more states than allow consenting gay adults to get married! Yay!)
Stodden is a devout Christian which is why there was no physical intimacy between the two till they were married. That and it's mostly illegal.
Despite rumors, Stodden has not had any plastic surgery. Hutchison explains that "her plastic surgeon was God." That guy?! I wouldn't recommend him. He totally botched my nose.
Anyway, I'll leave the rest of the fun for you to discover. You can watch the video from ABC below:
(h/t BuzzFeed who also edited a short snippet into the most hilariously disturbing thing you'll see all day)
Have a tip we should know? tips@mediaite.com