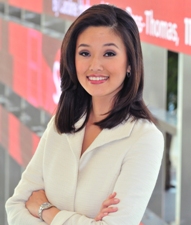 Betty Liu is the Bloomberg TV anchor of "In The Loop," live from 8-10amET each weekday. The program covers the all-important hours as the U.S. markets open, and the revamped Bloomberg TV line-up begins with Liu each day. Since joining the network in 2007, she's interviewed Warren Buffett, Ted Turner and more. Now Liu becomes the first Bloomberg anchor to take part in our 5QQ – Five Quick Questions series.
1. How do you get your first news of the day?
I must say I still like the tactile feel of reading a paper. So every morning I pick up my three papers in the lobby of the Bloomberg building when I arrive in the early morning. It's the WSJ, NYT and FT for me — not necessarily in that order!
2.The "either, or" question (you gotta pick one!):
iPhone or Blackberry; Times, Post or Daily News; New York or Hong Kong, NASDAQ or NYSE
Blackberry, New York Post, Hong Kong (I was born there!) and NYSE
3. What's the biggest story the media missed in 2009?
I think in this economic crisis, so much has happened that the media has been overwhelmed. Some stories unfortunately get dropped or overshadowed. For instance, in the beginning of this crisis, everyone was talking about all these "toxic assets" at banks. What were they? How much did "Bank A" or "Bank B" own, and so on. Eighteen months later, we're not a lot closer to understanding what these assets are. And if you can't understand them, how do you know any bank is really out of the woods – and that this crisis won't happen again?
4. Obligatory Twitter Question: Describe yourself in 140 characters or less (hash tag optional!)
Love to travel except for the flying part :-). Am working on a new book. And rediscovering cooking in my big new kitchen.
5. Are you nervous or excited about the future of journalism and media?
I'm excited, I always have been. Without sounding too Pollyanna-ish, journalists here keep your public figures, corporations, leaders honest. The FOIA (Freedom of Information Act) is a powerful tool for journalists – and Bloomberg is using it to great effect. I know the press gets vilified but I've been in countries where the press is largely an extension of companies or government (and I'm not talking just about China). It doesn't do anyone any good.
See more about Betty Liu here, follow her on Twitter here, and check out her rank on the Power Grid here.
This is an opinion piece. The views expressed in this article are those of just the author.