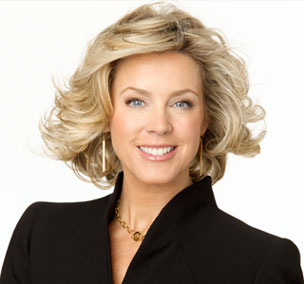 Deborah Norville's career in media has spanned from network to cable, morning to evening. She's anchored evening newscasts at NBC and CBS, did a stint on both the Today show and The Early Show and hosted a show on MSNBC. But now she is the long-time anchor of the popular syndicated news show Inside Edition. She's also the author of several books, from Children's to Nonfiction – the latest being "The Power of Respect: Benefit from the Most Forgotten Element of Success," which came out this week. With back-cover blurbs ranging from Sean Hannity to Dr. Mehmet Oz, the book highlights what can be gained by "respect" – both professionally and personally. Now she's the latest to give her thoughts for the Mediaite 5QQ – Five Quick Questions.
1. How do you get your first news of the day?
First see CNBC then flip between Today and GMA.
2. What's the biggest story the media has missed this year? (Or last week)?
Media isn't following the money. Who's watching to see where all that federal money is going?
3. "Either, Or" Question: (you gotta pick one!):
iPhone or Blackberry?
Blackberry
CBS Evening News or NBC Nightly News?
NBC News
Writing Children's books or writing Nonfiction?
Nonfiction
Better YouTube video: Bill O'Reilly's Inside Edition meltdown or "Gonna Keep on Movin'"?
Bill O'Reilly
4. Obligatory Twitter Question: Describe yourself in 140 characters or less (hash tag optional!)
@deborahnorville works 2 hard does 2 much is a good friend
5. Are you nervous or excited about the future of Journalism? Why?
Excited. News consumers have finally realized we need an informed public. Journalist are painfully aware of where they've fallen short as aggressive reporters.
Check out Norville on the Mediaite Power Grid.
Have a tip we should know? tips@mediaite.com