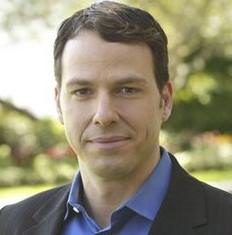 Jake Tapper is ABC News' Senior White House Correspondent. He landed the job the day after the 2008 election, after slogging through the long campaign.  He has also been a generous and helpful colleague to me in my rookie year at the White House.
Jake's Political Punch blog is the go-to destination for up-to-the-minute, incisive White House reporting.  His reputation as an independent, objective, and skeptical questioner has earned him the respect of his peers, and the enmity of partisans on both sides of the aisle.
I know this because Jake, more than any other big-time journalist, engages his critics often on his must-read Twitter feed (when he's not reporting or goofing on pop culture).  In journalism, if both sides are mad at you, you must be doing something right.
Although he has previously held the #1 slot on Mediaite's Power Grid, he returns from his Jack Raymond Tapper-induced paternity leave perched at #5.  We thought we would welcome him back with our 5 Quick Questions.
1. How do you get your first news of the day?
From my blackberry.
2. Either, Or (you gotta pick one!):
Cloth or disposable?
Disposable. Enjoying these very early days where Jack's diapers don't require the HAZMAT suit.
"Raising Arizona" or "Look Who's Talking?"
I prefer Raising Arizona, but clearly there have been no issues with the seed finding purchase.
Jar-Jar Binks or Scrappy Doo?
That's just shy of a Saw III question. Very, very reluctantly: Scrappy Doo.
3. What's the biggest story the media has missed this year? (Or last week):
Where all the TARP and stimulus money has gone.
4. Obligatory Twitter Question: Describe yourself in 140 characters or less (hash tag optional!).
Flawed, hard-working reporter, alternately idealistic/cynical, madly in love with wife, son and daughter. #andobviouslycornyandlame
5. Are you nervous or excited about the future of Journalism? Why?
Both. Excited about all the different ways to reach people and to hear from people, nervous about the erosion of standards (including objectivity) and constraints of corporate bottom line.
Have a tip we should know? tips@mediaite.com