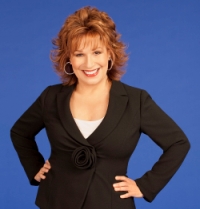 You probably know Joy Behar from her usual location – weekday mornings, sitting around a table with several other women, talking about news and life and interviewing guests, always inserting her own unique brand of humor into the discussion. As an original member of The View, the native New Yorker has spent more than 12 years in that role on ABC. Now she adds a new position – beginning tonight, she hosts a 9pmET news/talk show on HLN, the sister network of CNN. Behar has reached into the cable news arena before, as a frequent guest and sometime guest host on CNN's Larry King Live. Now she'll be his direct competitor. Behar always likes to talk on TV – she took a few minutes (she's busy launching a show) to give her thoughts for the latest installment of 5QQ – Five Quick Questions.
1. How do you get your first news of the day?
HLN & NYT
2. What's the biggest story the media has missed this year? (Or last week)?
Dick Cheney says he's a compassionate conservative. Is that like a vegetarian cannibal?
3. "Either, Or" Question: (you gotta pick one!):
Arthur Avenue or Mullberry St?
Arthur Ave.
Glenn Beck or Bill O'Reilly?
O'Reilly.
Fred Armisen or Joy Behar?
Fred.
4. Obligatory Twitter Question: Describe yourself in 140 characters or less (hash tag optional!)
SWF seeks viewers., 25-54,. interested in politics & pop culture. Must have sense of humor
5. Are you nervous or excited about the future of Journalism? Why?
Ambivalent. I'm a talk show host not a journalist. Just give me enough material to fill an hour every night and I'm good to go.
Check out Behar on the Power Grid.
Have a tip we should know? tips@mediaite.com