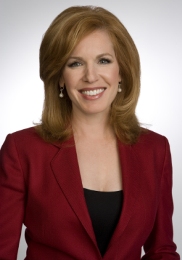 Liz Claman just returned from her first trip to Davos, Switzerland, covering the 40th World Economic Forum for Fox Business Network. The former CNBC anchor, and one of the biggest stars at the new FOX-run business network, interviewed industry leaders including Bill Gates, IMAX CEO Rich Gelfond, NYSE CEO Duncan Niederauer and even former Pres. Bill Clinton. She also moderated a panel called "Renewable Energy as an Engine for Economic Growth" which featured author Tom Friedman, among others. Now back in America, Claman is the latest media member in our 5QQ – Five Quick Questions series.
1. How do you get your first news of the day?
I'm up at 5am. I turn on Fox Business to check the various market index futures, overnight stock markets and breaking news, then hop in the car and head to the gym. On the way, I listen to Bloomberg Radio in the car (give us time, Fox Business will get on XM/Sirius soon!). Once I'm back, I log on to Marketwatch.com because they've got a great overnight Asia market wrap-up and a solid pre-game sense of what might affect the markets ahead here in States. The second I get to work, it's straight to the Wall Street Journal and the NY Post. They're in the building now so if I run into the reporters at the elevators, I don't have to read the articles– I just grill the writers in person… definite perk of working at News Corp.
2.The "either, or" question (you gotta pick one!):
iPhone or Blackberry; Times, Post or Daily News; East Coast or West Coast, NASDAQ or NYSE
–Blackberry. This is an addiction I can't break. I get the shakes if I misplace it.
—NYPost. A CEO once told me, "If CEOs tell you they read anything else first, they're lying."
–West Coast. I adore NYC but when that plane lands in my hometown of LA and I catch the first glimpse of the palm trees, I can relax.
— This is a tough one. There is nothing, and I mean NOTHING like standing on the floor of the NYSE with traders screaming around you, buying and selling. It's like you're part of living stock market history. But if you're forcing me to pick a NY-based exchange, I'd have to say NASDAQ. They're our neighbors just around the corner from Fox Business, I used to do a live show there every day, they even put my picture up on the gigantic NASDAQ tower in Times Square and CEOs tell me their listing costs are cheaper. Plus, News Corp. lists on the NASDAQ so…
3. What's the biggest story the media missed in 2009?
I know it's sexier to hear about the Rielle Hunter steamy video tapes but that affects like, four people. While everyone was on that, they missed a 'Krakatoa'-type global economic story forming, one that could still blow up in our faces. Greece may default on billions in debt. Did you happen to notice the Euro hit a seven-month low against our dollar Thursday? That happened not because the Greenback is so mighty (trust me, it's not) but because there's a horror film about to start in Europe. If Greece goes down, experts are saying Portugal, Spain and Ireland might be the next dominos to fall. Right now, word is Euro-member nations are secretly working to save (read: bailout) Greece from default for one reason: the Euro may not survive if that domino-effect kicks in. And then who knows how that might hurt the U.S. I know, I know, a bit arcane. Thanks for indulging me, we can all go back to your OK! Magazine now.
4. Obligatory Twitter Question: Describe yourself in 140 characters or less (hash tag optional!)
TypeA passion8 spitfire REDhead journo Dunkin' addict LA Kings&CleveBrwns fan, hockey & violin mom luvs2ski, good sense of humor & fairness
(Ed. note: with one character left over!)
5. Are you nervous or excited about the future of journalism and media?
If you're not excited about the future of Journalism, get out of the business. I remember being a production assistant at KCBS Channel 2 in LA 20 years ago. I had just graduated from UC Berkeley and was so excited to even just sort the mail in a newsroom when one of the anchors said to me in a bored tone of surrender, "Liz, In 5 years, there won't be any more evening news. The industry is going down the tubes. Avoid it like the plague, it's over." Last I checked, the evening news is still on at 6:30p, cable news has flourished and the Sunday morning political talk shows battle to the death for guests and ratings. True, newspapers and local news stations are struggling but, if necessity is the mother of invention, they'll either find a way to swim by making the product so good that people will have to pay for the content, or they'll sink. You watch: people will pay for Wall Street Journal and New York Times content. In some cases, they already are. Journalism is at a major inflection point but I've never doubted that, for me, this is and always has been my path.
Read more about Liz Claman's career here, follow her on Twitter here, and check out her rank on the Power Grid here.
Have a tip we should know? tips@mediaite.com