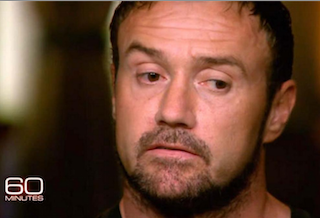 The unreliable source who has caused so much trouble for CBS News' 60 Minutes over the last two weeks has reportedly gone into hiding. In an exclusive report on The Daily Beast, writer Eli Lake quotes an email Dylan Davies sent to his publisher Friday morning, in which the British contractor wrote: "I will not be in touch again for a while, I'm sorry for the trouble this book has caused."
Davies and 60 Minutes have come under fire for a segment that ran on November 3rd about the attack on the U.S. consulate in Benghazi. After the piece aired, CBS News discovered that Davies' eyewitness account did not line up with testimony he gave to the FBI.
The fact that Davies had a book on his Benghazi experience published by Simon & Schuster, which is also owned by CBS, further complicated the situation for the company. Lara Logan delivered an apology and retraction this past Sunday and a "journalistic review" of the piece is under way.
Now, according to the email obtained by The Daily Beast, Davies and his family have received threats that have caused him to retreat from the spotlight. Davies claims to have been hand-delivered a note to his home address that read "Stop talking now or your wife and son will disappear." This led him to tell his publisher, "Due to this threat I will not discuss the book with anyone under any circumstances for the foreseeable future, I am not prepared to put my family in danger. I stand by my story however I understand that it continues to be rubbished, which I expected."
Since the 60 Minutes retraction, Simon & Schuster pulled Davies' book from the shelves, a decision he said he had "no problem with" in the email. "My reputation has already been ruined in the media and I will never work in the security industry again, this was inevitable due to the sensitive nature of the book," he wrote. "However threatening to kill my family was not something I expected."
Read Lake's full report at TheDailyBeast.com.
[photo via screengrab]
— —
>> Follow Matt Wilstein (@TheMattWilstein) on Twitter
Have a tip we should know? tips@mediaite.com