60 Minutes Segment Lauding IBM's Watson Neglects to Disclose IBM Media Spend on CBS News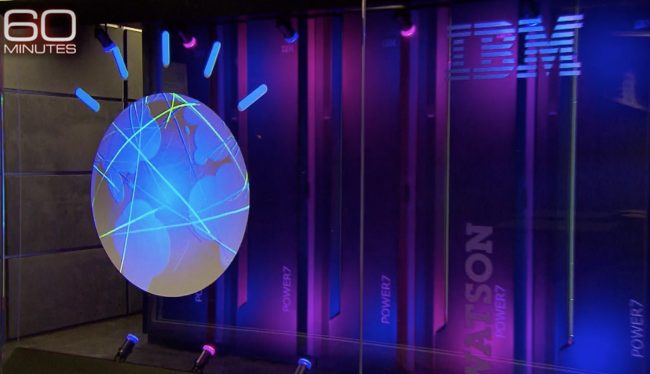 Anyone who watches big "tentpole" events and top franchise on CBS can tell you immediately that IBM spends a ton of money to buy media in promotion of their artificial intelligence product "Watson." Whether it's sporting events like the Masters Golf Tournament, NFL games and the NCAA Men's Basketball Tournament, or news programs like 60 Minutes or CBS Evening News, IBM marketers seem to be quite fond of "the Tiffany network" — at least judging by the sheer number of a Watson commercials that are aired.
So it was somewhat surprising to tune into a re-aired broadcast of 60 Minutes last night and see a Charlie Rose hosted segment ostensibly focused on the rise of Artificial Intelligence technology that, at least in this viewer's estimation, also looked like a fawning piece of promotion for a major advertiser of the network and show.
Originally airing in October of 2016 last Fall, the piece focused on how Watson has effectively ingested a previously unfathomable amount of health care data, made sense of it, and is becoming a critical tool for helping doctors and patients looking for clues that only Watson can see.  It was an interesting segment from an award-winning outlet that typically follows a very high standard for journalistic principles.
But in this instance, they failed to disclose that the subject of their news magazine program was also a major advertiser. The segment was so glowing and promotional of Watson that, at first blush, I wondered if there was a promotional fee paid for what looked like "branded content." But this was not the case.
While accepted journalistic standards seem to have eroded over the past decade or so, network news franchise still attempt to abide by Cronkite-era rules. And one such rule is that, if an outlet has a substantial business relationship with a subject of coverage, then the news outlet should disclose that relationship for fear of even the appearance of impropriety. There was no such disclosure in last night's or the original airing of this segment.
According to Society of Professional Journalists Ethics code, this segment appears to have blurred a number of lines, particularly with regard to journalistic independence. According to SPJ, "the highest and primary obligation of ethical journalism is to serve the public," before going on to guide journalists to "Avoid conflicts of interest, real or perceived, deny favored treatment to advertisers, and distinguish news from advertising and shun hybrids that blur the lines between the two."
The fact that no one at CBS News thought it odd to do a feature on the very product that is at the heart of what has to be a multi-million dollar ad spend is surprising. We reached out to a spokesperson at CBS and they declined comment.
Watch the segment below, courtesy of CBS News, and see if you can notice all 52 times the term "Watson" gets mentioned in this roughly 15 minute segment. IBM marketers must be thrilled!
UPDATE: A spokesperson from 60 Minutes tells Mediaite.
IBM's Watson and its work in cancer research was one example in our two-part story on artificial intelligence. We also reported on advancements in robotics from Hanson Robotics,  autonomous technology and education at Carnegie Mellon as well as breakthroughs in facial recognition and AI at the Imperial College of London.   The suggestion that IBM or any other entity paid a fee to be included  in this story is ridiculous.
This is an opinion piece. The views expressed in this article are those of just the author.
Colby Hall - Founding Editor