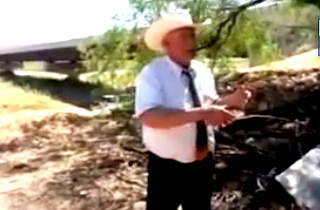 Conservative cause célèbre Cliven Bundy has come under intense scrutiny for comments he made to the New York Times about the plight of the "negro" yesterday. "And I've often wondered, are they better off as slaves, picking cotton and having a family life and doing things, or are they better off under government subsidy?" he said.
Who hasn't wondered that in good faith at one point or another, right?
Predictably, those race-baiters on the left have seized on Bundy's remarks, and shifted the discussion from being about federal overreach when it comes to land rights, to the off the cuff remarks of an old man who was just honestly expressing his constitutionally protected opinions. It's another example of the gotcha game that the liberal media so often plays, critics like radio host Dana Loesch has pointed out. The one where the biased media puts a microphone in front of an old white dude and waits for something racist to fall out, then makes a big deal about it.
Granted, at face value, Bundy's comments seem offensive, Loesch allows, but can we really blame him for them? After all, he wasn't the one who printed the comments in the newspaper of record, he only said them out loud at a press conference. And besides, he's not some slick, trained media pro like they have back east. He's just a simple cattle rancher who happens to honestly wonder whether or not it would be better for black people to be slaves still. "I hope no one is surprised that an old man rancher isn't media trained to express himself perfectly," Loesch noted.
Because we feel for Bundy, we've come up with a crash course in how to handle the media when they come banging on your door, forcing you to comment out of nowhere on the state of race relations in the country and other hot-button issues you may not be prepared for:
1. Punctuality
Showing up on time for your interview is the first step toward assuring things go smoothly, whether it's for radio, TV, or just holding court next to a river on your ranch just down the way from the armed militia checkpoint. This will allow you to go over the basics of the interview beforehand, to ascertain what shape the conversation might take, and to familiarize yourself with the point of view of your interviewer, such as where they stand on the concept of bringing back slavery.
2. Don't be nervous
Most members of the media are not out to make you look bad, they just want to get a story they can be proud of. Much like animals, they're often more afraid of you than you are of them. Also like animals, you don't want to pay taxes on them, so you also have that in your pocket in case you need to bust it out at any point.
3. Be honest
Most members of the media can tell when you're lying. They can also tell when you're being honest, for example if you out yourself as a backwards racist rancher who thinks it's still the 1800s.
4. Don't be afraid to say "I don't know"
If you don't know the answer to a question, it's fine to say so. You might also consider veering wildly off track and start pontificating about completely unrelated matters that make you look really really bad, because this will throw the interviewer off their rhythm and you'll end up looking like a guy who knows how to take charge of a situation.
5. On-the-record versus off
If the interviewer has put down the camera or recorder, that doesn't mean you still aren't being observed. If you want to signal that things are going off-the-record, have your band of cowboy men playing army dress-up come surround you so they can't hear what you're saying anymore.
6. Back up your assertions
Reporters are partial to facts and figures, so if you say something controversial, such as that African-Americans are an inhuman subspecies, no different than the beasts of burden you herd on the land you refuse to pay taxes on, provide some factual evidence to back it up. Do you perchance have any materials from a respected tea party senator on hand that you could furnish to bolster your case?
7. Presentation
Appearance is key in the media, so dress the part. Do you want to convey the image that you're an anachronistic cowpoke from centuries past who hasn't evolved with the times? Then throw on an old cowboy hat and ride a horse to your interview, because that way the interviewer will know you're not a serious person who anyone should be paying attention to and we can all get this media circus over with sooner rather than later.
8. Pick your venue
If you're worried about getting taken out of context by an outlet that may be critical of your point of view, find another one that is more sympathetic where you can then go and say the exact same thing, but in slightly different language.
— —
>> Luke O'Neil is a journalist and blogger in Boston. Follow him on Twitter (@lukeoneil47).
Have a tip we should know? tips@mediaite.com