According to a spokesperson for Hillary Clinton, the former secretary of state is looking forward to "hugging it out" with President Barack Obama when she visits with him on Martha's Vineyard Wednesday evening after spending some time criticizing his foreign policy positions over the weekend.
As we learned from White House Deputy Press Secretary Eric Schultz at today's briefing, this won't be the first time Obama and Clinton have shared a hug. In fact, they "have had many hugs over the past few years." But clearly, this one is different.
To mark the momentous occasion, let's look back at some other famous hugs from Obama's time as president:
George W. Bush, Inauguration Day 2009
President Obama seen hugging former President George W. Bush on Inauguration Day 2009. No such image is said to appear with former Vice President Dick Cheney.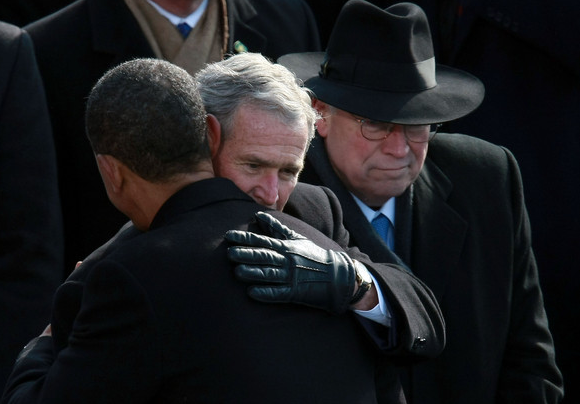 Charlie Crist, 2009
The former Florida governor described the experience this way: "He walked out toward me. Both of us smiled. The applause was just about frantic. We shook hands. The new president leaned forward and gave me a hug. Reach. Pull. Release. As hugs go, it wasn't anything special. It was over in a second—less than that."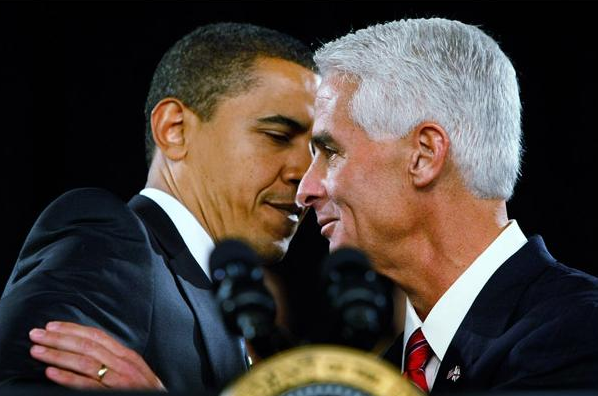 Former Rep. Gabrielle Giffords (D-AZ) at the 2012 State of the Union
The consoling, sentimental variety.
Charlie Crist, Again, 2012
This time, the governor was out of office and on his way to switching parties…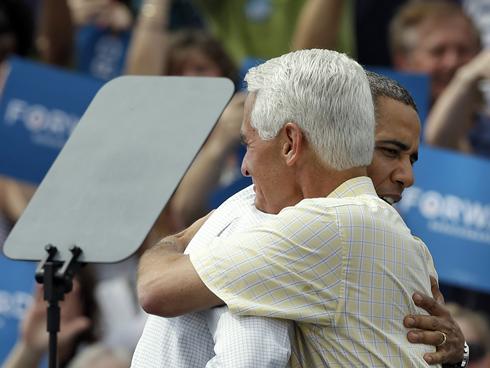 That Pizzeria Owner Who Literally Picked Obama Up Off the Floor, September 2012
This was just awesome.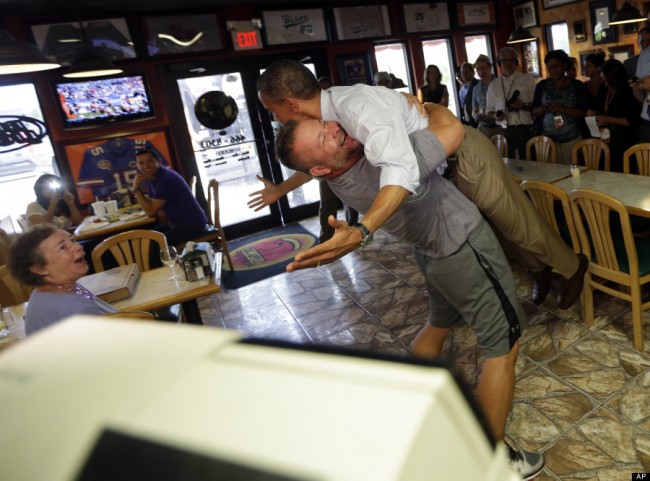 Chris Christie, Post-Hurriance Sandy, October 2012
The 2016 Republican hopeful claims he has no regrets.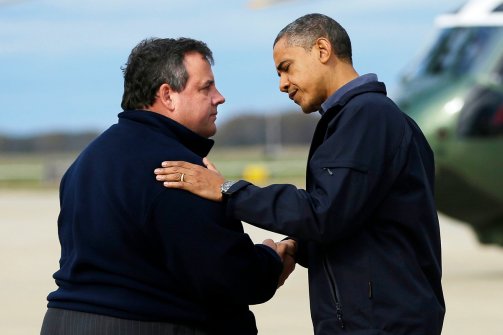 First Lady Michelle Obama, November 2012
The most-retweeted photo of all time, until Ellen DeGeneres' Oscar selfie.
Four more years. pic.twitter.com/bAJE6Vom

— Barack Obama (@BarackObama) November 7, 2012
Outgoing Press Secretary Jay Carney, May 2014
Awkward.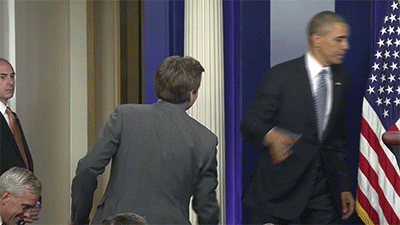 The White House has indicated that tonight's hug will not be caught on camera. But Mediaite will be standing by to bring any photo or video evidence to you if and when it becomes available.
[Photos via screengrab/Wikimedia Commons]
— —
>> Follow Matt Wilstein (@TheMattWilstein) on Twitter
Have a tip we should know? tips@mediaite.com