$9-$9-$9: Herman Cain Calls Obama's Minimum Wage Increase 'Dead Wrong' On Fox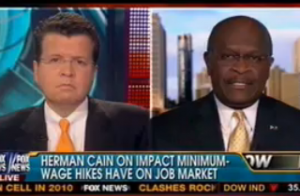 When President Obama proposed raising the minimum wage to $9 per hour during Tuesday night's State of the Union address, references to former GOP presidential candidate Herman Cain's 9-9-9 economic plan immediately began flowing on social media. While Cain's plan was based around the number nine, it did not include a provision to raise the national minimum wage. And Wednesday afternoon on Fox News, he told host Neil Cavuto why he thinks Obama's plan is such a bad idea.
Cavuto began by showing data that demonstrates a correlation between high minimum wage and high unemployment in certain states. He then asked Herman Cain, who as former CEO of Godfather's pizza has some experience with low-wage workers, what business owners around the country are going to do if Obama's wage increase goes into effect.
"Well, they're either going to have people work less hours or they're going to hire less people. That's typically what happens," Cain said, when minimum wage goes up. "Here's where the president is dead wrong," he continued, arguing that raising the minimum wage from $7.25 to $9 is "not going to get anybody out of poverty." Cain added that if business owners keep their employees on, the extra cost will just get "passed on to the consumer."
Looking back at his Godfather's experience, Cain said that he would occasionally raise the salaries of his employees above the mandated minimum wage "because of a shortage of workers. So allow the marketplace to do its thing. This illustrates his advisers' total lack of business literacy."
Cain finally addressed the inherent connections between the president's plan and his own 9-9-9 platform, saying, "9 is my favorite number, but not in this case."
Watch video below, via Fox News:
—
>> Follow Matt Wilstein (@TheMattWilstein) on Twitter
Have a tip we should know? tips@mediaite.com