911 Called For 'Lion' Sighting, Turns Out It's Just A Lovable Labradoodle
911 Called For 'Lion' Sighting, Turns Out It's Just A ...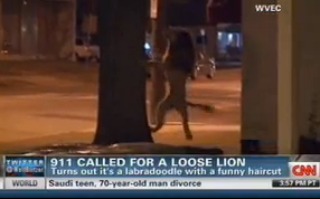 In Norfolk, Virginia Tuesday busy shoppers and diners had a moment of panic: they spotted a loose "lion" roaming the streets. It was so scary that three of the spectators on Colley Avenue called 911 to report the wild animal. But wait, here's the happy ending: the "lion" was actually a lovable Labradoodle named Charles the Monarch, the beloved companion animal of a local business owner.
Natalie Painter, Charles' mommy, told ABCNews.com that he's intentionally groomed to look like the mascot from the nearby college, Old Dominion University. "I go to Old Dominion University and our mascot is a lion and we have a local zoo right here also," she said. It's understandable that residents were frightened, she added:
"He was just roaming around. He does his own thing a lot of the time. He visits the locals on the street and walks on the sidewalk shop to shop. He was walking around, and he does look a lot like a lion. So I guess some concerned citizens thought there was a lion."
RELATED: This Happened: Pet Chicken 'Cluck Cluck' Saves Couple From House Fire

This also isn't the first time local police have been called in to recapture a "lion." They always call the Virginia Zoo first to make sure no animals have escaped. Luckily, Charles will be fine. Karen Parker-Chesson, the Norfolk Police Department public information officer said that Charles "has not been documented to hurt or bite anyone."
Charles is actually a bit of a celebrity, as well. He often accompanies Painter to football tailgates and around the campus. "It's really funny," she said. "I'm used to the attention but when I'm on campus, I'll bring him to roam around while I do homework outside and I see students and faculty running around with cameras after him. It's like he's in The Beatles."
"He's 4 years old. He's been a lion ever since we've had him," she added.
Asked about the regal name, Painter said, "We took a picture when he was on the porch one day. He had his snout up, and he just looked so majestic, so regal. So it just stuck."
CNN reports that Charles' mane and tail aren't exactly natural, they're dyed to make him look more like a lion. Painter's dad, Daniel, says he's the "friendliest Labra-lion" there is.
Watch the full clip below, via CNN:

h/t ABC News
—
>> Follow Anjali Sareen (@AnjaliSareen) On Twitter
Have a tip we should know? tips@mediaite.com