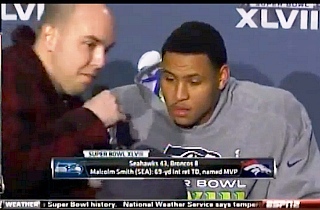 The 9/11 "truther" who hijacked a Super Bowl post-game press conference has been identified and claims he was able to make it all the way inside MetLife Stadium without a press pass or a ticket.
New Jersey resident Matthew Mills, 30, stormed the dais during Sunday evening's presser with MVP Malcolm Smith, grabbed the mic and implored the media to investigate the 9/11 attacks because, he believes, they were "perpetrated by people within our own government."
Mills was quickly removed by officials and arrested for trespassing.
The independent journalist, who often reports for WeAreChange.org, claims he wanted to get as close to the stadium to conduct interviews with fans, but an opportunity arose when he spotted an employee bus at the Secaucus Junction transit station.
Mills reportedly hopped aboard the bus, wearing the lanyard from an old festival credential. When he was hassled by security at the stadium for his employment verification, Mills used a rather effortless excuse.
"I just said I was running late for work and I had to get in there," he told NJ.com. "It was that simple."
According to Mills, the excuse got him pretty far inside the stadium.
"I didn't think that I'd get that far," he continued. "I just kept getting closer and closer. Once I got past the final gate and into the stadium, I was dumbfounded."
And after the Seattle Seahawks secured their Super Bowl victory, Mills walked into the media tent and hijacked the podium when it felt right. "I just saw my opportunity to get my word out there and I took it," he explained.
Read NJ.com's full interview with Mills here; and re-live the moment below, via ESPN2:
— —
>> Follow Andrew Kirell (@AndrewKirell) on Twitter
Have a tip we should know? tips@mediaite.com