A Baffled Candy Crowley Tears Into 'Incomprehensible' Lack Of Ability To Verify Student Visas At Border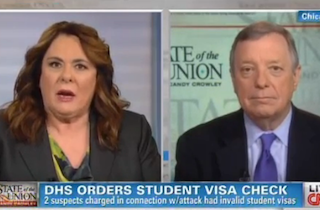 Following the Boston bombing, the Department of Homeland Security ordered U.S. customs to verify that all foreign students coming into the country have valid student visas — a basic verification that one would imagine was already routine procedure. An incredulous Candy Crowley discussed the issue with Sen. Dick Durbin (D-IL) on Sunday, asking how we're just now seeing the need to run these checks.
"Effective immediately, U.S. Customs and Border Protection agents will have real-time updates to the student visa status of every foreign student entering the U.S," Crowley informed. "Authorities allege two of the three people suspected of hiding evidence for the accused bomber were in violation of their student visa requirements."
Citing a broken immigration system, Durbin argued that we need to better track visas and know not only when those on student visas arrive but also when they leave. Crowley remarked that when she first heard this story, she thought, "Isn't that what customs is for?"
"It is incomprehensible, I think, to people, that that information is available, and yet, the very people at the front lines…who say, 'Yes, come on in' or 'Hang on a second and go to that room,' don't have the information they need," Crowley asserted. "And, you know, 9/11 was, you know, more than a decade ago."
"There is not enough coordination between these different agencies so that we know someone should not have been re-admitted to the United States," Durbin replied, emphasizing the need for a strong immigration reform bill.
Verification is part of that reform, he explained, arguing that much of the it begins with things we should have already addressed. Indeed, student visa verification is, as Crowley mentioned, a problem that prompts the reaction, "You mean we weren't doing this all along?"
Take a look, via CNN:

Have a tip we should know? tips@mediaite.com