A 'Cheerful' Mayor Bloomberg Visits Occupy Wall Street; Promises To Clean The Park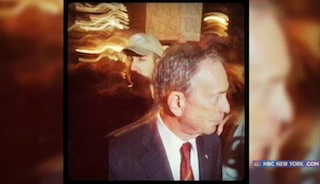 It's not really all that surprising that New York's Mayor Michael Bloomberg hasn't gotten along particularly well with the Occupy Wall Street protesters. I mean, the guy is a politician and a billionaire. He's about as "The Man" as the man can get. Add to that a series of less than supportive comments and you don't have the makings for much of a chummy relationship. However, when the Mayor finally took a trip down to Zuccotti Park to see the scene for himself, witnesses described him as being "cheerful."
Bloomberg took a walk through the area and, while he didn't spend much time talking to the protesters personally, he didn't punch holes in anyone's bongos either, so that's nice. What he did do was detail plans to begin systematically cleaning the park while the protesters are there.
RELATED: Mike Bloomberg's Advice To Occupy Wall Street: Focus On Government, Not Banks
From NBC New York:
"According to Deputy Mayor Cas Holloway, Bloomberg expressed his belief in the First Amendment and that protesters have a right to protest. But he said 'the last three weeks have created unsanitary conditions and considerable wear and tear on the park,' according to Holloway.

'The situation is not in the best interest of the protesters, residents or the City,' continued Holloway."
While some protesters I'm sure are thrilled with the idea of an official cleaning, others think it's unnecessary, pointing out that tons of volunteers have been working around the clock to do it themselves.
You've gotta respect them sticking to their ideals, I suppose. Still, if the guy offers them Porta-potties, they really should take them.
Watch the video from NBC New York below:
(h/t Breitbart.tv)
Have a tip we should know? tips@mediaite.com