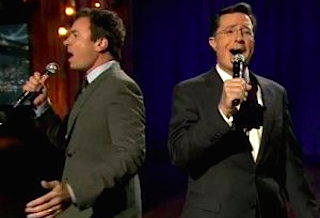 Is Jimmy Fallon vs. Stephen Colbert the new Jay Leno vs. David Letterman? According to Fallon, there is not going to be new "late night war" now that Colbert is taking over The Late Show on CBS (he jokingly predicted a dance-off), but just like the old guard before them, these two hosts have a storied past together.
Unlike the actual animosity between Leno and Letterman, Fallon and Colbert's relationship is known for its on-again, off-again, "best friends for six months" faux-rivalry. But now that they are going to be actual rivals, competing for the same network late night viewers and celebrity guests, will they be able to maintain this jovial co-existence? Before the new era of late night begins in earnest, here's a look back at the highlights from the Fallon vs. Colbert saga.
Late Night Snack vs. AmeriCone Dream
The origins of the Fallon vs. Colbert feud can be found in pints of Ben & Jerry's ice cream. In 2011, the company introduced Jimmy Fallon's Late Night Snack to a line-up that already included Stephen Colbert's AmeriCone Dream. This did not sit well with Colbert, who wanted to be the only late night host with his own ice cream flavor. Fallon ended up crashing The Colbert Report to defend his ice cream. While Colbert was able to call in Jon Stewart for back-up, Fallon failed to make Leno materialize.
Eventually, they ended up eating too much ice cream and going on a brain freeze-induced hallucinatory journey to Vermont. By the end of the segment, they decided to try being "best friends for six months" because forever felt a little too permanent.
"Friday"
Remember Rebecca Black's terrible one-hit wonder "Friday"? Apparently it was a big enough deal in 2011 that four weeks into their best friendship Fallon challenged Colbert to come on his show and sing the song with The Roots, all in the name of charity, of course.
It only took a few more days for Fallon's fans to raise the money and guarantee the musical performance from Colbert, who delivered, with a little extra help from Taylor Hicks.
"Somewhere Out There"
Of course, those six months of friendship had to end sometime. In September 2011, just before the two hosts faced off at the Emmy Awards, their friendship came to an end and they became "eternal enemies" for the next six months. Fortunately, Anderson Cooper was on hand to become Colbert's new best friend.
That same night, the two hosts commemorated their six months together by singing a duet of the classic song, "Somewhere Out There" on Late Night.
"Ivory and Ivory"
Despite their messy fall-out at the end of their best friendship, Fallon and Colbert appeared to stay on semi-icy terms over the next few years. In 2013, Colbert visited Late Night and the two reconciled by sitting down at a white piano and singing "Ivory and Ivory" complete with the lyric, "I can tolerate you and you don't mind me."
And then of course, earlier this year, Colbert even showed up on Fallon's first Tonight Show as one of the many celebrity guests who had supposedly bet him $100 that he would never get that hosting gig. Colbert one-upped the rest of the group by dumping 10,000 pennies on Fallon's desk before snapping a historic selfie, which takes on an entirely new meaning after this week.
Congrats to @jimmyfallon – Today, the Tonight Show; Tomorrow, the Today Show! #watchtcolbert #tivofallon pic.twitter.com/JpKNweMd8w

— Stephen Colbert (@StephenAtHome) February 19, 2014
[photo via screengrab]
— —
>> Follow Matt Wilstein (@TheMattWilstein) on Twitter
Have a tip we should know? tips@mediaite.com