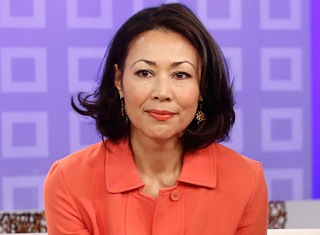 Ann Curry will tell her viewers tomorrow that she is leaving Today, USA Today reported this evening. In an interview where the paper said Curry sounded like she was "fighting back tears," she explained her new job will be as an NBC national/international correspondent producing special pieces for the network, staying on for a period of "more than a few years."

RELATED: Savannah Guthrie Reportedly Offered Ann Curry's Role On The Today Show
Curry told the paper that the leaks about the problems with her at the program "hurt deeply," and that much of the reporting on her chemistry with the rest of the team was untrue. She says she did not have enough time to work out kinks with her anchoring position and states flatly, "I know I am not to blame for the ratings worries." She also described the meeting that led to the change:
"I walked into his office expecting to say goodbye," she says of Steve] Capus, describing herself as "deeply sad" about the turn of events. "Steve sat me down and told me I'm not done, and he convinced me there is far more to do." He offered to create a unit for her that would do the sort of reporting she likes best.

She will have a big title —Today show anchor-at-large and NBC News national/international correspondent — and a contract negotiated on her behalf by lawyer Robert Barnett that she says lasts "a significant amount of time," more than just a few years.

She declines to discuss her salary but says reports of $10 million or $20 million a year are wrong. "I can say that I'd love to earn that much," she says.
More details are expected as she announces the change tomorrow on the program.
Have a tip we should know? tips@mediaite.com