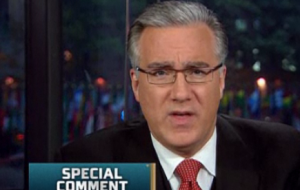 As we've learned this year, there are JournoLists and then there are journalists. I've always viewed Keith Olbermann as a member of the former school—a liberal ideologue who gains excessive pleasure from berating conservatives. As someone who subscribes to a more right-leaning worldview, I've never been enamored by his antics, nor have I gone out of my way to watch his show.
All of this aside, Keith Olbermann's suspension without pay is an absurdity that extends beyond the bounds of rational thought. Why would a liberal who has a popular show on a left-leaning 24-hour news outlet be penalized for donating to Democratic candidates? Or, more pointedly, why would such a man not donate to a left-leaning cause? After all, I'm not surprised by Sean Hannity's donations to conservatives (nor should I be).
MSNBC is claiming that Olbermann's donations breached the company's ethics policies. Interesting, considering that none of the liberal meanderings that dribble from the mouths of Olbermann, Chris Matthews or the other Democratic cheerleaders over at MSNBC have ever been considered ethical conundrums. And those guys have Obama-induced thrills flowing up and down their legs on a daily basis!
At the end of the day, MSNBC's reaction to the ordeal showcases all that's wrong with mainstream media. While MSNBC cannot necessarily be considered mainstream, its parent company is. Unsurprisingly, the same ideology that drives the media elite is at the heart of Olbermann's suspension. It's driven by an aura of denial. MSNBC, like many other leftist outlets, allows itself to be left-leaning without openly embracing its penchant for liberalism—as though slapping Olbermann on the wrist is going to change anyone's perception of what MSNBC stands for.
Punishing a journalist for a campaign contribution is essentially assuming that personal thoughts, perspectives and political inclinations won't exist if the journalist doesn't contribute to a party or candidate. This is faulty logic. It's the same logic that keeps the majority of outlets from admitting that they have a left-leaning slant; journalists and outlets alike have hypnotized themselves into believing that their left-of-center views are "mainstream." Some editors have taken it so far that they recommend that journalists don't vote in presidential or congressional elections. How silly is that?
True journalistic ethics aren't about personal perceptions. Rather, true ethics involve the method and mode through which a journalist or media personality frames subject matter. One can be partisan, yet still be more than fair in his or her coverage. Olbermann isn't someone who is fair in his coverage. His campaign contribution doesn't surprise me, nor would a lack thereof convince me that he is or ever was a fair-minded and ethical journalist. So what's the point of his suspension, MSNBC?
At worst, Olbermann is an intelligent, yet hypocritical (he has condemned Fox News for partisan contributions in the past) figure with whom I profoundly disagree. He's never exercised ethics or balance on his show, so holding him to that standard is rooted in idiocy. Unfortunately, he's fallen prey to the same obsessive political correctness and liberal demagoguery he so regularly defends.
Welcome, Olbermann! If MSNBC is so concerned about acting ethically, the network should consider spouting facts instead of lines from the Democratic Party platform or, at the least, allow its anchors and personalities to exercise support for the same values in their personal lives that they do on the air. Common sense, isn't it?

Billy Hallowell is a journalist and commentator who focus on media, politics and society. His writings can be found at www.billyhallowell.com and on Twitter.
Have a tip we should know? tips@mediaite.com