A Farewell: Mediaite's Favorite Controversial, Wacky, And Tear-Stained Glenn Beck Moments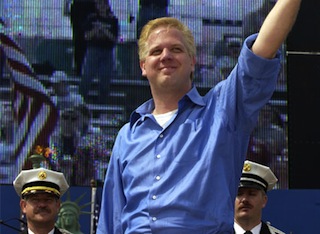 The state of American media on January 18th, 2009 was an ambivalent one, at best. With a not-so-beloved president stepping down to make way for historic change to hit the White House, many wondered how the tenor of political coverage– a tenor that had appeared to peak in cynicism and malaise– would evolve in a new era of Barack Obama™ "Hope and Change." On that day, an obscure former Headline News host debuted his new program on Fox News, and as he departs two years later, we can safely say Glenn Beck has left an indelible mark on the history of cable news. Below a compilation of Mediaite's most memorable moments from the program.
These two and a half years of Glenn Beck's stunning success at making enemies and rounding up viewers have produced one of the most diverse repertoires of political commentary in the cable news format as we know it. We've laughed at boiling frogs, we've shivered with tiny chihuahuas representing the mainstream media, we've scoffed at the power of Van Jones and scratched our heads at the Overton Window (and The Overton Window), and did more than our fair share of crying (well, Beck did most of the crying for us). In honor of the show that gave us so much to talk about, and in reservation as to how it will be possible to explain the hold Glenn Beck had on the public sphere during his two years on Fox News to future generations, we have divided our favorite moments into three categories: the most entertaining, the most emotional, and the most completely inexplicable moments to happen on the program.
We begin our fond look back with the most entertaining moments in the history of Glenn Beck:
NEXT PAGE
Have a tip we should know? tips@mediaite.com