A Fed-Up Ashleigh Banfield Holds FL Officials Responsible For Voting Woes: 'It's Ridiculous… Fix It!'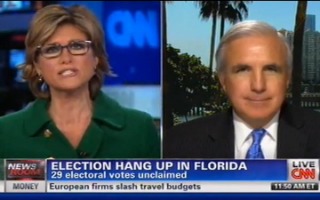 On Thursday, CNN's Ashleigh Banfield reported on the problems continuing to delay the process of organizing and counting Florida's ballots.
"Who's going to step up and fix this mess?" Banfield demanded. "It's ridiculous. Who's responsible for it? Who's going to be held accountable for it? You heard President Obama: Fix it!"
Former governor Charlie Crist, for one, thinks voter suppression is to blame, calling for expanded hours for voting. Banfield said her show reached out to Florida governor Rick Scott's office for an interview, but was informed that Governor Scott's schedule is "already set today."
"I understand that, Governor Scott," Banfield replied. "You are a very busy man and we are two days after the election. I understand that. But for the record, we are going to keep pressing you for answers until we get them. "
Florida elections officials also declined the show's offer for an interview, Banfield revealed. One person who did say yes, however, was Miami-Dade county mayor Carlos Gimenez.
"Sir, thank you. Thank you for stepping up to the plate and joining me," she told him. "I have some very tough questions for you. I just spent a very uncomfortably warm and frustrating two days in Miami Dade with a lot of people who were very, very nice and very pissed off. Why on earth did this happen? You have plenty of experience with problems. How did it get so bad?"
Jimenez cited operational issues, explaining that he'll be convening a special panel to see exactly what went wrong. Banfield wondered whether they would also address the sheer length of the Florida ballot, which some voters told her took them up to half an hour to read and fill out.
The Mayor later stressed the need for the state to return to expanded early voting days.
Have a look, via CNN:
Have a tip we should know? tips@mediaite.com