A Frustrated Chris Wallace Asks: How Can GOP Appeal To Middle Class While Refusing Tax Increase For Top 2%?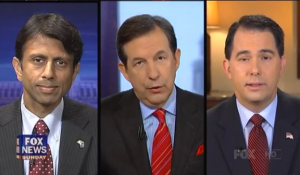 On Fox News Sunday, Chris Wallace spoke to Louisiana Gov. Bobby Jindal and Wisconsin Gov. Scott Walker about the looming "fiscal cliff." President Barack Obama is willing to sign tax cuts for almost all Americans, with one caveat, Wallace noted — so why won't Republicans make a compromise that would appeal to middle-class voters?
Wallace observed that Obama has been saying he'll extend Bush tax cuts for 98 percent of all taxpayers right now, while the Republicans are saying, "No no no, we can't do that until we decide what we're going to do with the top two percent of taxpayers."
"Why wouldn't a middle-class voter look at that and say, 'These guys, the GOP, are all about protecting the rich'?" Wallace asked.
Jindal said the party needs to make clear that they favor a "lower, flatter, simpler" tax code. It's possible to still be progressive, he said, citing limits of deductions as one example. "We're not the party trying to protect the rich," he said. "The rich can protect themselves." He further noted the need for structural changes in the tax code, not just a Band-Aid on the problem.
"We don't need to abandon our principles," Jindal said. "This country doesn't need two Democratic parties."
"Look at the optics of it," Wallace said to Walker: The president is holding up a pen, ready to sign, and the Republicans are resisting. He further pointed to Bill Kristol's remarks that a tax increase on the wealthy would not be outrageous and that the GOP would eventually acquiesce.
Walker argued that many governors inherited deficits when they recently took office, but managed to balance their budgets without increasing taxes. "Most Americans look at what's happening in Washington and think, 'They're missing the boat,'" Walker said. "The economy is a much bigger issue."
Watch below, via Fox:

Have a tip we should know? tips@mediaite.com