A Furious Lawrence O'Donnell Interrogates Empty Chair After George Zimmerman's Lawyer Cancels
Furious O'Donnell Interrogates Chair After Zimmerman's Lawyer Cancels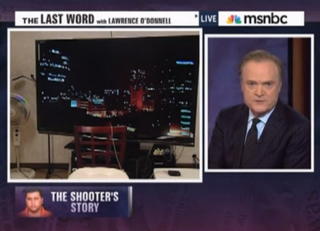 George Zimmerman's attorney, one Craig Sonner, seemed a bit out of his league when he tried to answer such difficult questions from Anderson Cooper on Friday as "where is your client?" and "did he tell you what happened that night?" So it may not be that big of a shock that he canceled his appearance with Lawrence O'Donnell last-minute tonight. What may come as a surprise is that O'Donnell went on and did the segment anyway, interrogating an empty chair about who was paying its legal fees and what it feared it would have to argue to keep his client out of trouble.

RELATED: Hoodie-Clad Goldie Taylor And Mark Thompson Talk Trayvon Martin With Lawrence O'Donnell
The segment began with O'Donnell reporting first on some of the new developments of the Trayvon Martin story, including Zimmerman's new claims of self-defense. He then noted that Sonner was meant to appear at the top of the hour, and not only canceled, but just "walked out of the studio"– a point that led O'Donnell into a five minute or so lecture consisting of reasons why, perhaps, Sonner wouldn't want to appear, of assurances that he could not imagine Sonner rescheduling with O'Donnell, and O'Donnell's assertions that Sonner could not feel particularly comfortable about his client's chances if he wouldn't go on the show. "He literally run away," O'Donnell railed, "he is in our car right now taking him away from the studio." Accusing him of "getting away with the craziest stuff any lawyer has attempted to get away with," he warned his audience to watch him if he resurfaces anywhere else.
O'Donnell then turned to the segment his show planned with Sonner, showing the chair from which Sonner should have reported in Orlando. He did not, of course, but that did not stop O'Donnell from actually conducting his interview. He began asking questions passionately– "Who is paying you?," "Did you represent Zimmerman in the domestic violence case in 2007?," "Do you have photographs of your client's broken nose that night?"– until he exhausted his list of questions, raising his voice dramatically at the empty wooden chair staring back at him helplessly from Orlando, bearing no answers.
The "interview" via MSNBC below:

Have a tip we should know? tips@mediaite.com