'Hypocritical': Fox Guest Chastises Author of Obamacare Alternative That Would Kick People Off Policies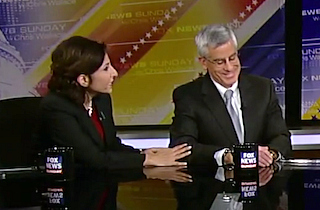 Neera Tanden, president of the Center for American Progress and one of the authors of the Affordable Care Act, took her fellow Fox News Sunday panelist and senior fellow at the Ethics & Public Policy Center James Capretta to task for criticizing the Affordable Care Act for kicking people off their health insurance plans when his own proposed plan would have a comparable effect.
"James Capretta has a health care plan that he put out," Tanden said. "He asked for tax credits. He said we should convert the employer exclusion to tax credits. Estimates were that there would be 11 million people who'd lose health care coverage, the coverage they have, and they'd be dumped onto different kinds of health care plans. John McCain supported a health care plan that had 20 million people lose the coverage they had, without better alternatives. It's a little hypocritical to hear complaints about coverage loss from someone who's authored a plan himself that had less coverage."
"30 seconds to respond about a plan that doesn't exist," host Chris Wallace said to Capretta.
RELATED: Fox's Wallace Grills Liberal Guest: Isn't Obamacare Just 'Income Redistribution?'
"She's wrong," Capretta said. "The plan I drafted, which I'd love to have Congress and other people consider, would not actually affect the vast majority of people in employer-based coverage because it won't change the exclusion."
"That's true, but millions of people would lose coverage," Tanden said.
"I'm sorry," Wallace said. "I want to talk about Obamacare. I don't want to talk about Caprettacare."
Watch the clip below, via Fox News:
[Image via screengrab]
——
>> Follow Evan McMurry (@evanmcmurry) on Twitter
Have a tip we should know? [email protected]