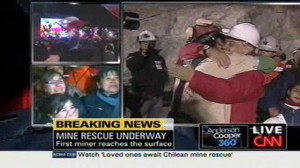 With all eyes tuned into the cable news outlets watching the Chilean miner drama, more viewers were watching the actual first rescue on CNN, while Fox News dominated the balance of the evening with total viewers.
Cable news ratings, October 12, 2010:
• CNN's ratings spike for the Chilean miner rescue story was very noticeable last night. While Fox News still won during prime time, where Shepard Smith contributed throughout the night, CNN was the top cable news network in total viewers and the demo during the 11pmET hour when the first rescue took place. From 8pmET-2amET the win was a split: FNC won total and CNN won in the demo. Here are some more details:
With politics out of the picture, MSNBC fell far behind (even though they stayed with live coverage of the miner rescue as well). It was basically a typical night for MSNBC, as well as much of FNC prime time. Fox News got a boost at 11pmET and beyond, but the second hour anchored by Greta Van Susteren saw CNN take the lead – and saw the biggest improvement by far. Let's see if that keeps up tonight: the network airs the Delaware Senate debate from 7:30-8:30pmET followed by a live Parker Spitzer for a half hour.
Here's the full scoreboard:
TV NEWS RATINGS: 25-54 DEMOGRAPHIC (L +SD)
5 pm
Beck

412

Blitzer

182

Matthews

100

Showbiz

57

6 pm
Baier

400

Blitzer

221

Ed Show

113

Prime

90

7 pm
Shep

529

King, USA

235

Matthews

180

Issues

189

8 pm
O'Reilly

804

Cooper

314

Olbermann

230

Grace

229

9 pm
Hannity

617

King

349

Maddow

269

Behar

205

10 pm
Greta

787

Cooper

991

O'Donnell

252

Grace

193

11 pm
Miner

1046

Cooper

1422

Coverage

279

Showbiz

177

TOTAL DAY
386
281
135
139
PRIME TIME
736
551
250
206
Data by Nielsen Media Research. Live and same day (DVR) data.
TV NEWS RATINGS: TOTAL VIEWERS (L +SD)
5 pm
Beck

1801

Blitzer

726

Matthews

543

Showbiz

163

6 pm
Baier

2038

Blitzer

923

Ed Show

610

Prime

263

7 pm
Shep

2259

King, USA

853

Matthews

651

Issues

472

8 pm
O'Reilly

3492

Cooper

1506

Olbermann

1019

Grace

694

9 pm
Hannity

2997

King

1380

Maddow

1052

Behar

457

10 pm
Greta

3179

Cooper

2955

O'Donnell

976

Grace

385

11 pm
Miner

3468

Cooper

3998

Coverage

1083

Showbiz

291

TOTAL DAY
1515
917
485
280
PRIME TIME
3222
1947
1016
502
Data by Nielsen Media Research. Live and same day (DVR) data
—–
» Follow Steve Krakauer on Twitter
Have a tip we should know? tips@mediaite.com