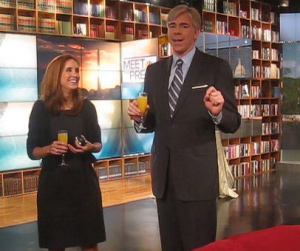 It was a big day on the set of Meet The Press this past Sunday, for two reasons: It marked the beginning of the broadcast in HD, and it was the first show to be shot on the show's brand-new set.
While the first can be traumatic (particularly without a good makeup artist), it was the second which brought emotions to the surface in the crowd gathered to mark the occasion. Host David Gregory, executive producer Betsy Fischer and NBC had invited media and guests to attend a live taping of the show, followed by a reception marking the event. Present were NBC President and CEO Jeff Zucker, NBC News President Steve Capus, NBC News SVP Alexandra Wallace and NBC Washington Bureau Chief Mark Whitaker. But it was, of course, the one who was absent who was felt most keenly.
That person, of course, is Tim Russert — former moderator of Meet the Press and Gregory's predecessor in the chair. It was the same chair Russert sat in until his sudden death in June 2008, at the same desk and on the same set. With this new set, that link to Russert's tenure on the program was broken and in yet another way since his passing, the broadcast was moving on.
And even though the mood was light and the event celebratory, it didn't take long for Gregory to get choked up about this step. "This is a big moment for me, because it's really the next step for me and for the program," Gregory said, his voice catching, "It has not been an easy transition, but I've always felt like I'm never alone in that."
Gregory also paid tribute to Fischer, MTP's longtime EP, who worked closely with Russert and whom Gregory called "the brains of this operation." Gregory thanked his bosses Zucker and Capus (thanking Capus for letting them "spend all this money!"), and inviting him up to address the crowd, which included Governors Jennifer Granholm and Bill Richardson, Rep. Mike Pence and various members of the media. "We all miss our friend Tim. And we miss having him in this home," said Capus, detailing how the staff and the bureau had come together after Russert's death to discuss how to move forward and continue the tradition. "And that brings us to today."
Gregory emphasized Meet the Press as a public good (something that has been a recent topic of discussion), saying, "If there's something that this set really represents it's how important the program is to this country, and how it's much bigger than whoever sits in this chair." Watch the full speech below (Gregory gets choked up at about 1:30); photos from the event are below the video.
Despite the bittersweet nature of yet another rite of passage for this show and this bureau, the set-unveiling was an upbeat and fun affair, with Gregory inviting everyone to stay and chat over a light brunch and free-flowing mimosas. To their credit, the politicians lingered for a few moments after, chatting with those present and posing agreeably for photos. For some of those, see below.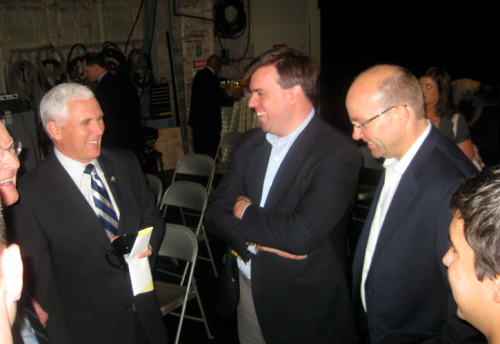 Politico's Jonathan Martin and Mike Allen make chit-chat with Indiana congressman Rep. Mike Pence (R). Too bad they didn't invite Scott Brown. Wait, did I just say that out loud?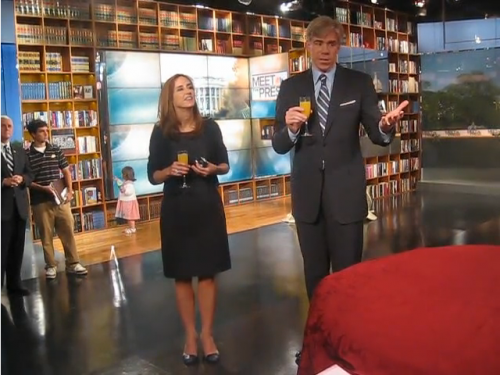 "Please to enjoy this lovely set!" Gregory welcomes the group to the new set as EP Betsy Fischer looks on.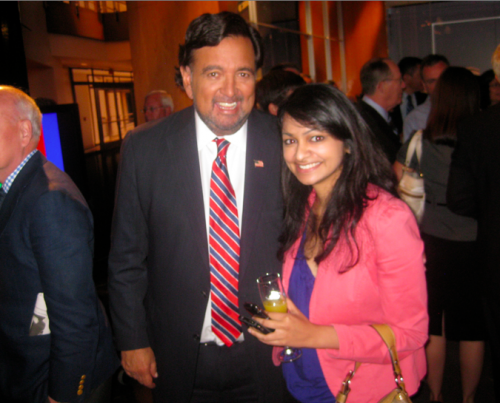 New Mexico Governor Bill Richardson may not be sure if he wants a beard, but he is sure that he wants this photo taken with Mediaite's Nisha Chittal.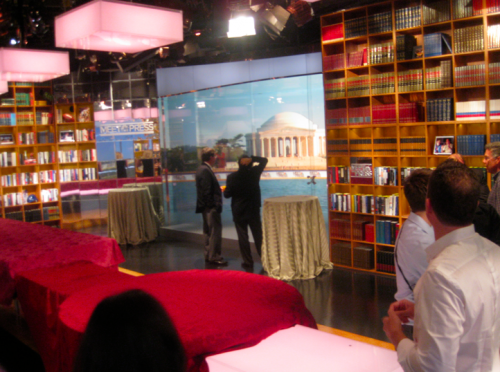 Meet the Set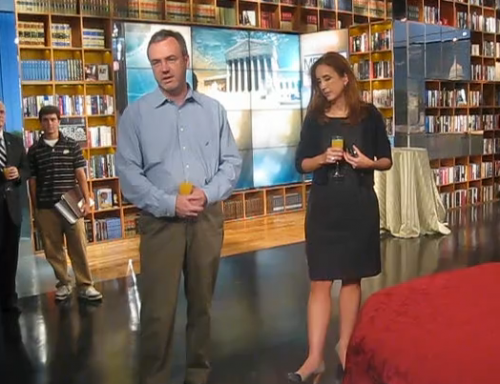 NBC President Steve Capus: "This is a very tight family — and it's been a family that has had a lot of challenges over the last couple of years…we all miss our friend Tim. And we miss having him in this home."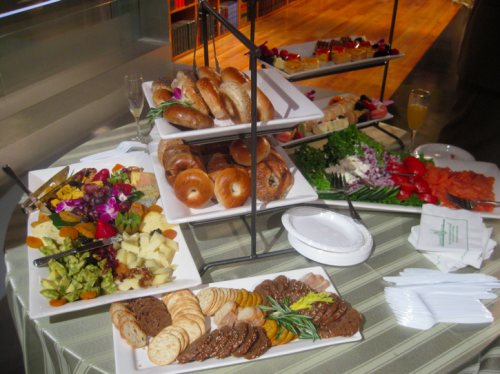 If you think this looks good, you should have tried the goat cheese pepper-puffs. If it's Sunday, it's goat cheese pepper-puffs.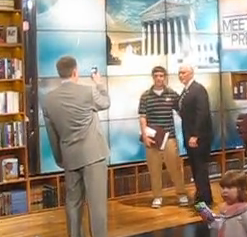 Rep. Mike Pence gets snapped with a youngster on the MTP set.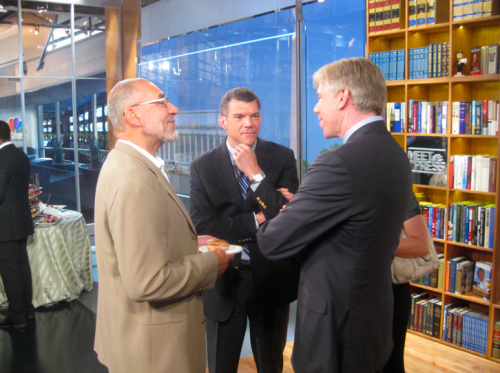 NBC Senior Vice-President and D.C. Bureau Chief Mark Whitaker looks very interested in this conversation, but I saw him at the MSNBC party at around 1 a.m. the night before, so he must have been feelin' it. Nice game face, though.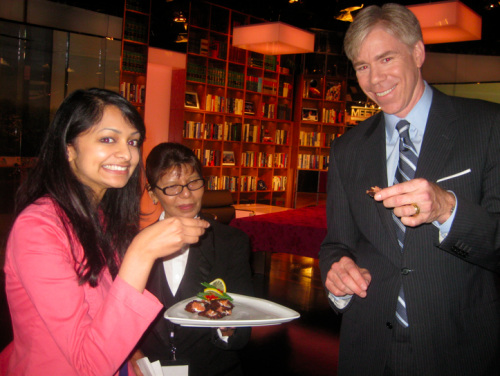 Gregory enjoys a latke (delicious Chanukah snack of the Jews)  topped with lox and cream cheese (delicious every-time snack of the Jews) with Mediaite's Nisha Chittal. "That's my influence," he said to me, gesturing to the plate. As far as I can tell, Gregory is the only MTP host who has wished his viewers a happy Chanukah from the chair. Point being, he knows from his latkes.
NBC's Jenny Tartikoff lifts a mimosa to her boss. (We did, too.)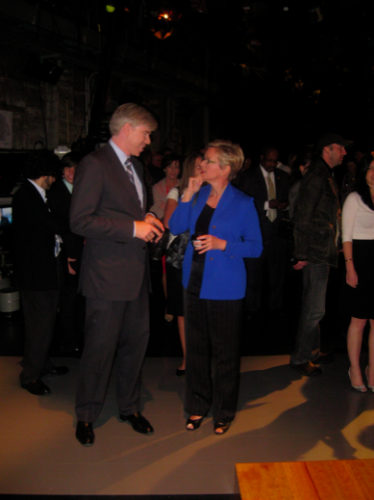 David Gregory chats with Michigan governor (and possible Supreme Court nominee?) Jennifer Granholm, who wore the color of the weekend in a bright blue (like Hillary Clinton and Janet Napolitano earlier on MTP).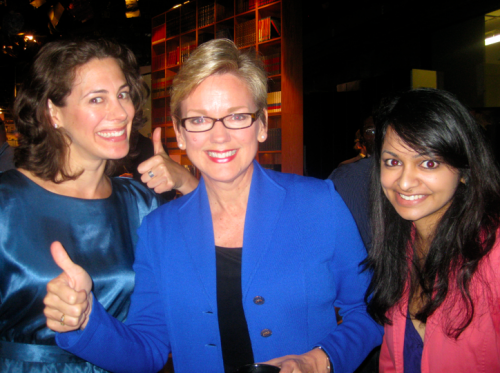 Governor Granholm gives the thumbs up, with a purpose: Sending a birthday greeting to her former senior staffer (and Friend of Mediaite), Jalopnik editor Ray Wert. With Mediaite's Rachel Sklar and Nisha Chittal.
Mike Allen knows what you're up to, punk, and he doesn't like it.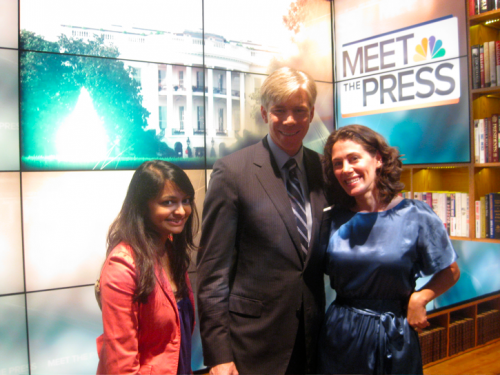 Meet the Mediaite: Gregory poses with Nisha Chittal and Rachel Sklar, who can now say they've appeared on Meet The Press. Sort of.
The flag flies high over NBC's Washington Bureau.
Have a tip we should know? tips@mediaite.com