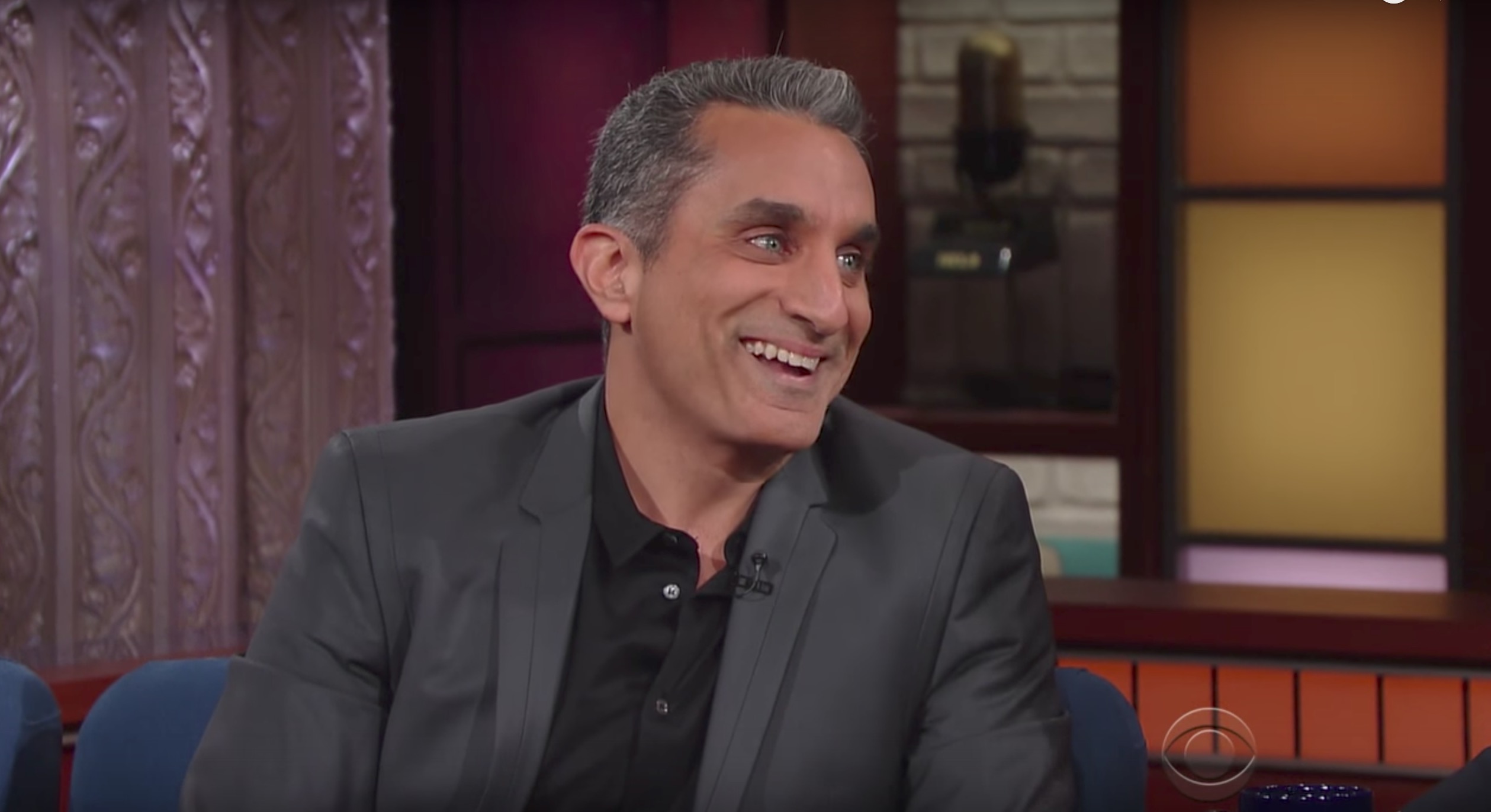 As political satirists in the United States struggle to come to grips with a presidency that holds dissent in contempt while providing a deluge of material begging to be exploited, Tickling Giants, a new and remarkably timely documentary out on Netflix chronicles the rise of Bassem Youssef — Egypt's foremost political satirist, known to many as the Jon Stewart of the Arab world.
The man who would become the most watched entertainer in the Middle East was an unknown heart surgeon at the dawn of the Arab Spring in 2011, when thousands of demonstrators took to Cairo's Tahrir Square to demand an end to President Hosni Mubarak's 30-year rule.
Youssef was struck by what he describes as a "nationwide split personality disorder": the revolution he saw brewing in the streets of Cairo was denied, to a comical extent, by national media outlets loyal to the regime. When Egyptian media did cover the unrest, Youssef saw, they tarred the demonstrations as "not a revolution but a conspiracy orchestrated by the CIA."
The "two separate realities" described by Youssef strike as a dynamic that is becoming increasingly familiar to American cable news audiences, as one's perception of President Donald Trump's administration could range from an impeachable failure to a roaring success, depending on whether one tunes into Sean Hannity or Rachel Maddow.
In this chasm between the reality of the Arab Spring and media coverage of the unrest, Youssef saw an opportunity: a political satire show, in the mold of his idol Jon Stewart's Daily Show, that would hold Egyptian media to account whilst shedding light — with a dash of humor — on what was actually going on in the streets of Cairo.
The show started in 2011, as a five-minute YouTube skit filmed in the laundry room of Youssef's home, and quickly amassed millions of views. Youssef was soon courted by networks sensing the opportunity to provide a TV program for an Egyptian population newly minted with a taste for free expression and criticism of the ruling powers. The product was AlBernameg — or The Show — baked in the mold of Stewart's Daily Show, doling out a weekly dose of political satire aimed at the Egyptian media and its long-entrenched political class.
The Show was an astonishing success: 30 million people tuned in to watch every night — that's nearly 40% of the population of Egypt — gathering in bars, restaurants and on the streets to watch Youssef's weekly program. For a little perspective, The Daily Show typically averaged less than 2 million viewers in the U.S. per episode.
In 2012, Youssef visited New York to meet with Stewart and appeared on his show. While there, he met Daily Show senior producer Sara Taksler, who committed to filming a documentary about Youssef. What was initially supposed to be a months-long look into Youssef's show turned into a four-year odyssey as Taksler captured Youssef's dramatic attempts to stay on the air through a series of humorless dictators, ending with his departure from Cairo once pressure from Abdel Fattah el-Sisi's regime became too dangerous to bear.
Youssef fled Egypt for the United States with his family, only to find the country on the verge of descending into a political climate that in many ways has come to resemble that of his home. The blinding polarization that shook Egypt throughout its tumultuous flirtation with democracy bears an alarming resemblance to what Youssef sees brewing in the United States. "People are starting to choose their own bubble here as well," Youssef told Mediaite on a stop in New York to promote Tickling Giants. "And that bubble starts with un-friending people on Facebook, to boycotting shows you don't like, choosing what kind of news validates your own beliefs."
Much like the Islamists and military loyalists that tried to shut down his show with dogged (and often comical) persistence, Youssef warns that Trump voters, by disregarding the media and placing their unreserved faith in the president, risk slipping into a post-fact world: "It's as though there's no truth anymore, no facts anymore," he noted. "People are choosing the facts and the truth that confirm their ideology."
"You meet so many people on the right that support Trump — and they're nice people, but they just believe whatever narrative is thrown to them by Fox News and Trump," Youssef said.
Taksler's documentary premiered at Tribeca Film Festival in 2016, months before Trump's astounding ascent to the presidency. The surreal political climate that followed his win has given the documentary an unexpected timeliness, director Sarah Taksler told Mediaite, noting she "had no idea how relevant this film would become."
But there may be room for optimism — Taksler was pleasantly surprised by bipartisan interest in the film — Sen. Ted Cruz's presidential campaign, as well as the Koch brothers, approached her with interest in the documentary — seeing the reception as evidence that both sides of the aisle fancy themselves champions of free speech. "Both liberals and conservatives think that the other side doesn't care," Taksler said. "And both sides think they own this issue."
While both sides have different perceptions of what threatens free speech in the United States — for liberals it's Trump's adversarial relationship with the media, and conservatives a creeping suppression of free expression on college campuses — left and right agree at a fundamental level in the right of a comedian to satirize government, and "an objective feeling of what's right and wrong — making Youssef's story a great way to start a dialogue," Taksler said.
Youssef is less optimistic — he finds it peculiar that Trump supporters would embrace the film, arguing that "people on the right don't understand the parallels between what I'm protesting, and what they support." He sees the same hypocrisy from the Trump administration and desire to suppress free speech he witnessed in Egypt. Speaking on Trump's trip to Saudi Arabia, Youssef said "it bewilders me that he goes and speaks about terrorism and then takes money from the people who instigated the ideology behind terrorism."
Though quick to point out that America's predicament is nowhere near as troublesome as Egypt's, Youssef maintains the vital importance of using satire to hold power to account, even in the face of persistent and subtle moves to undermine democratic norms. "You don't have to have blood on the screen everyday," he said.
Youssef has little means of returning to Egypt while Sisi remains in power, and has settled with his family in Los Angeles. He's currently on the hunt for his next project, keeping his massive nine-million strong Twitter following up-to-date. When asked if he's considered a stint on cable — he confessed he often tunes in to Fox News, which drives him mad — Youssef offered a wry smile, along with "no comment."
[image via screengrab]
—
Follow Aidan McLaughlin (@aidnmclaughlin) on Twitter
Have a tip we should know? tips@mediaite.com
Aidan McLaughlin - Editor in Chief